We hear the code words everyday - COOP, pandemic disease, CERG teams, employee cascades, office evacuation, first responders, emergency planning - and since "911", we all understand the importance of proper planning for the safety of our HUD employees, but can we be sure we'll know exactly who to call or what to do when a real emergency requiring employee evacuations or office resettlement occurs?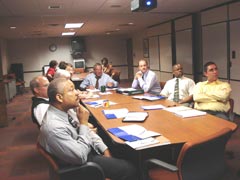 Emergency management agencies, local federal officials and the Nashville CERG Team realize that employee safety is paramount.
In an attempt to further develop a coordinated Disaster/Emergency Response Plan, the HUD Nashville Field Office Director Bill Dirl and staff, prepared for and held a meeting composed of local, state and federal emergency management officials, including the City of Nashville's Office of Emergency Management, State of Tennessee Emergency Management Agency, GSA and the Federal Protective Service along with the property owner, Stanton Management Group on July 31, 2007.
Discussion centered on emergency and evacuation protocol, command structures, organizational teamwork, communications and property management issues. The Nashville HUD Office shares its space with other "tenants" at its Cumberland Bend location - near the Cumberland River, north of downtown Nashville. Everyday, the public visits HUD, the Mental Health Cooperative, Inc., Department of Labor-Investigations, SSA-Hearings, and other smaller agencies. In fact, there is quite a lot of public visitation to these offices daily. Therefore, one of the items discussed centered on a unified and coordinated evacuation notification system and who would engage it.
One scenario discussed in detailed was the procedure to follow if an imminent bomb threat was received at one of the office park agencies at Cumberland Bend. Clarification was provided on how the other building agencies be notified, and by whom? Another example centered on logistics during any potential evacuation situation.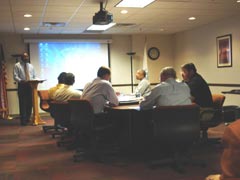 NASFO Director Bill Dirl welcomes attendees and emphasizes the reasons for conducting the meeting.
This, the first meeting held on the subject topic, not only refreshed HUD Staff on emergency planning, but also provided information to those private and non profit agencies sharing the building space on what HUD may plan to do during such emergencies. HUD's official Office Emergency Plan was provided to each agency.
One thing for sure, if there is an emergency requiring a notification, the Nashville Office of Emergency Management is notified first, and they would make the decision to coordinate it with other local, state or federal agencies.
All-in-all, the meeting was a great exercise for all of those in attendance to learn about potential weaknesses and updated communications systems, evacuations, and first responder protocol. When those with the authority to make decisions regarding the safety of their employees understand when and who to call and what is expected when a communication for assistance or notification is made, it reassures them they've "done the right thing".
A Tennessee Emergency Management Agency presentation included post-disaster assistance information through non profits such as the American Red Cross, and how their funds work together with funding from FEMA, the SBA, and other non profit programs. There was a frank discussion about post-Katrina assistance programs in Tennessee - their inner-workings, as well as some of the programs' outcomes, expectations and present status of the citizens who are now being served.