HUD's America's Affordable Communities Initiative is pleased to report the successful conclusion of its second roundtable discussion, held on July 27, 2004, entitled "Affordable Housing: Confronting Regulatory Barriers Together."
The Initiative team convened a panel of representatives from nonprofit organizations, industry groups, and government associations from across the country to discuss the barriers that excessive regulations pose to affordable housing. Secretary Alphonso Jackson emphasized the priority he places on the Initiative's mission and described the efforts the Department is taking to address this important issue. Initiative Director A. Bryant Applegate further detailed the Initiative's activities, highlighting many of the web-based tools of the Initiative, including the Regulatory Barriers Clearinghouse.
The panelists included Alexander Roberts of Community Housing Innovations; Conrad Egan of the National Housing Conference; Jon Heroux of the National League of Cities; Debra Bassert and David Ledford of the National Association of Home Builders; Paul Hilgers of the Austin Housing Finance Corporation; Bill Duncan of the Enterprise Foundation; Chris McElroy and Peter Morgan of the National Association of Realtors; Lisa Fisher Henderson of the Workforce Housing Coalition of the Greater Seacoast; Jane Maloney of Habitat for Humanity International; and, Julie Bornstein of the Campaign for Affordable Housing. In addition to Mr. Applegate, David Engel, Edwin Stromberg, and Will Zachmann represented HUD.
Each of the panelists shared their specific, and in many cases common, experiences with regulatory barriers. The first half of the discussion was devoted to the identification of regulatory barriers and the need for education to heighten public awareness of this important issue. The second half of the roundtable highlighted the most effective responses from government, private industry, and the nonprofit community and raised suggestions for future action for all affordable housing advocates. The roundtable was a great success, both for the ideas shared and the contacts made. In the coming weeks, the video of the roundtable will be disseminated throughout HUD's regional and field offices as an educational tool. We look forward to applying the lessons learned from the discussion in our continuing efforts to break down regulatory barriers to affordable housing at all levels of government.
"We're thrilled with the results of this roundtable and it energizes us to continue to work toward reducing regulatory barriers to affordable housing at all levels of government," said Applegate. "Whether you're talking about the federal government or our state and local partners, we're all in this together."

In remarks to roundtable participants, Secretary Alphonso Jackson underscored the importance of eliminating burdensome regulations that drive up the cost of housing working families can afford.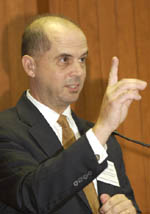 A. Bryant Applegate, Director of America's Affordable Communities Initiative, points out that HUD is leading by example and examining its own regulations for potential barriers to affordable housing.