HUD Works to Secure Housing for Person with Disabilities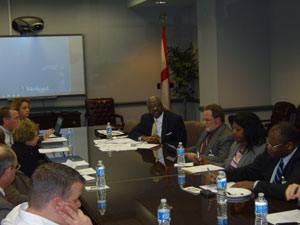 HUD representatives and local Alabama stakeholders meet to address housing for Persons with Disabilities.

These are economically challenging times and that fact has not escaped local state governments. With a proposed State of Alabama 2013 budget (http://budget.alabama.gov/), the Alabama Department of Mental Health (ADMH) is facing a cut of 25 percent. The proposed reduction in the ADMH's budget will have profound and adverse rippling effect on persons with disabilities throughout the state and the people that serve their needs.
It is estimated that three of the five mental health facilities will be closed, approximately 500 persons with disabilities will lose access to housing and over 1,000 state agency employees will lose their jobs as a result of the planned budget cutbacks by September 2012.
In response to the budget cuts and in support of HUD's partnership with the Department of Health and Human Services (HHS - http://www.hhs.gov/), the HUD Office Public Housing, convened a Round Table discussion of statewide stakeholders involved in providing comprehensive care services to persons with disabilities.
Among the 16 attendees, top officials from the Department of Mental Health, Alabama Medicaid Agency, Alabama Housing Finance Authority (AHFA), National Alliance of Mental Illness (NAMI), Alabama Disability Advocacy (ADAP) and the Montgomery Housing Authority participated to name only a few.
"The Alabama HUD office is committed to helping people make successful transitions to the community as they are released from health care and mental health facilities by working with state agencies to ensure continuity of care and linkages to appropriate housing and community treatment and supports," said HUD Alabama Field Office Director Michael German.
HUD assembled a cross program divisional team from Public Housing (PIH), Multi-Family Housing (MF) and Fair Housing and Equal Opportunity (FHEO) as part of the Round Table discussions. The goal of the Round Table discussion was to introduce, discuss and develop effective strategies to help transition persons with disabilities from restrictive institutional settings to less restrictive and home and community based living arrangements.
HUD and HHS developed a program entitled "Money Follows Persons" (http://www.hhs.gov/news/press/2011pres/02/20110222b.html) grant program designed specifically to facilitate the transition of persons with disabilities to the least restrictive living arrangement through providing comprehensive supportive services.
"Public Housing has had a long standing effort to partner with agencies to help improve the quality of life for our residents. The partnership strategies being implemented in Alabama are great examples of how we can serve more families that are transitioning from various healthcare facilities in the most holistic manner," said HUD Karen Cato-Turner, Region IV Public Housing Director.
Robert Moon, Chief Medical Officer and Deputy Commissioner for Health Systems at the Department of Medicaid Services, stated that "the recent cutbacks in funding necessitates a completely different model for delivering to persons with disabilities. This meeting jumpstarts the dialogue to begin the process of how best to transition persons with disabilities to more independent living and housing is the right place to start."
Attendees identified the challenges, concerns and opportunities to leverage resources to significantly increase the number of housing units available to provide housing for persons with disabilities.
Ms. Ozenia Patterson, Director of Long Term Care for the Medicaid Services stated that "this meeting could not be more timely in response to the crisis facing persons with disabilities." She added, "that she is very appreciative that HUD is taking the lead and this is the first time in her long career that HUD has gotten directly involved securing housing for this segment of the community."
Courtney Tarver, Chief Counsel for the Department of Mental Health, stated, that "if we do not develop a broad spectrum of organizations willing to leverage their collective resources, a large segment of persons with disabilities could be left with no place to go. It is critical that HUD has agreed to get involved in the process of helping displaced persons with disabilities transitions from institutional settings to home and community based living arrangements."
The attendees decided to take the following steps: First, the Medicaid Department will apply for the HUD/HHS "Money Follows Person" grant; second HUD will draft an Action Plan that encompasses the suggestions and recommendations put forth in the Round Table discussion. The Action Plan will identify the steps necessary to provide housing for persons with disabilities; and third the ADAP will select a group of persons with disabilities that attendees will work collaboratively with to conduct a pilot program to determine how effectively attendees can work to secure housing for this group of persons with disabilities.
Afterwards, the State Leaders of HUD, the Medicaid Services Department and Department of Mental Health and other attendees of the Round Table will look into entering into a Memorandum of Agreement (MOU) detailing the working relationships between the major stakeholders to more effectively transition persons with disabilities to home and community based living arrangements.
###