Community Home Repair Projects in Arizona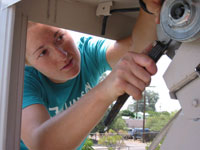 A volunteer from Moundridge, Kansas, installs an evaporative cooler on a home in Tucson, Arizona. Where summer temperatures can top 110 degrees, cooling becomes a critical need, especially for the elderly.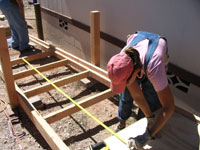 A one-year volunteer takes measurements while building a wheelchair ramp for a disabled person. She is from Newbury Port, Massachusetts, says, "The people I am working for bring meaning to each day."
Emergency home repair services have been provided to low-income homeowner/occupants in Tucson and Pima County for the last 25 years. The mission of Community Home Repair Projects of Arizona, Inc. (CHRPA) is to assist the disadvantaged of the community to live in and maintain humane housing. CHRPA currently receives approximately $200,000 per year in HUD Community Development Block Grant (CDBG) funding through the City of Tucson and Pima County. The organization assists with projects that involve health or safety concerns, preserve independence, reduce high utility bills, or otherwise maintain the livability of a home.
On a typical morning, CHRPA has eight to twelve workers picking up their assignments, loading trucks with materials, and heading out across the city and county to serve the community. They know they cannot resolve all of the housing issues faced by low-income residents in one day. However, they can replace a broken bathtub for an elderly couple, or repair the roof of a single mother. They can replace a broken window for a disabled veteran and install a new sewer line in for a low-income family.
CHRPA employs a small staff of highly qualified trade people. It relies greatly on volunteers to provide the majority of the labor for the repair work. Some have been volunteering on a seasonal basis for fifteen years. "We actively promote people working on their own homes with our assistance, or recruiting their neighbors, friends and family members to participate in larger repair projects. While this is not always the quickest way to get a job done, we believe that a person's relationships and a community's cohesion are strengthened by this providing-and-receiving of assistance among community members."
Twenty five years later, CHRPA continues in its community mission with assistance from HUD. The organization has grown, repairing homes and enriching lives. The agency has experienced steady growth completing over 1400 jobs in fiscal year 2007 and making them the highest volume non-profit provider of emergency home repair services in Pima County. Typical repairs range from plumbing, to heating and cooling, and adaptive construction for people with disabilities. All of the work is offered free of charge.
A Tale of Two Pipes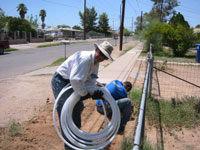 Volunteers install a new water line at a home in Tucson. Much of the plumbing in houses built in the decade after World War II has reached the end of its service life, and must be replaced. Community Home Repair offers this service to low income homeowners with funding through Community Development Block Grants.
A woman named Carol called saying that four and a half years ago she had been diagnosed with cancer. Her husband had left her and she had lost her job. She had two surgeries and chemotherapy. Then, more recently, back surgery. As a complication of the surgery, she fell and shattered her arm and shoulder. She had three children at home. She noticed there was a growing puddle of water in her back yard and that her water bills had quadrupled. Was there anything that could be done?
When the folks from CHRPA visited her property, they discovered not only a water leak, but a gas leak as well. They installed new gas and water pipes for Carol and repaired two interior gas leaks for only $525 (net cost to CHRPA; zero cost to Carol), including materials, overhead and labor. The cost of these services would have been approximately $2,800 if the work had been performed by a contractor. The project was accomplished with the help of Carol's college-aged son, who assisted in digging the trench. Use of the equipment was donated. Volunteers and staff did the work. Carol was thankful for the assistance provided.
Mrs. E. and the Demo Fest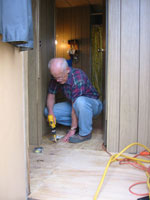 A Canadian volunteer installs a new floor in a mobile home. The previous floor had collapsed due to water damage.
"Mrs. E." lived in a mobile home with a large addition. It was added twenty years ago and doubled the size of her home. The addition was filled with 3" spiral nails and had rafters that were rotting and leaking. Mrs. E. lost her husband in August to cancer. Her first unilateral decision was to ask CHRPA for assistance to tear off the addition. CHRPA usually doesn't perform this type of work, but her situation was pretty daunting. The first step was to rebuild the bathroom in her trailer. Next was a "demo-fest" where the whole company went out for a day and tore down the structure. The City of Tucson donated some 40 cubic-yard waste containers for the project. The next phase involved installing windows and doors, building a new wall for the laundry room, and cleaning up many 3" spiral nails. Now that the structure is gone, "Mrs. E." says she feels like a great weight has been lifted from her shoulders. About 120 cubic yards worth, if anybody's counting...
October Ramp-Building
During the first week of October CHRPA had the task of building a 28 foot long wheelchair ramp. Russell and his wife Jenny lived on the south side of Tucson when a cold front was blowing in. It took two and a half days to complete the project. The work began on Monday with a design session, followed by lumber purchases, and eventually the beginning of construction. Pencil lines soon gave way to flying sawdust, turning lag screws, and bright joist hangers as the ramp took shape. The crew worked steadily, long past when the sky began to look ominous and the first drops of rain began to fall. Tuesday, the workers were soaked thoroughly a couple of times by cold rain. Wednesday, the Community Home Repair women put the finishing touches on the handrails, posed for buff-construction-women pictures and gave paint to some enthusiastic grandkids who were excited to have a role in the work. The clients, an elderly couple with grandkids, are very appreciative of the beautiful ramp and the workers who built it.
| | |
| --- | --- |
| Two volunteers frame a wheelchair ramp for a disabled client who lives in a mobile home in Tucson, Arizona. | Two volunteers just finished with another wheelchair ramp for an elderly woman. |
For more information on HUD's Community Development Block Grant funds and projects, contact your local Community Planning and Development representatives