Much More Than a House...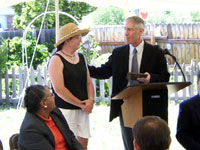 New homeowner Cindy Reyes and SHHP's Sam DeSiato
On a sunny, summer afternoon, new homeowner Cindy Reyes received a plaque for her accomplishment and proudly proclaimed to the audience assembled in her back yard, "I don't need a plaque; I HAVE A HOME!"
Cindy realized her dream of homeownership with help from the Colorado Department of Human Services, Supportive Housing and Homeless Programs (SHHP). Cindy recently closed on her home and moved in to her new Aurora tri-level with her son. They had previously lived in a number of rental properties and Cindy said she was "tired of fixing up places for other people."
SHHP initiated its Homeownership Voucher Program in January 2000 for persons with disabilities. The Program provides eligible low-income families with disabilities and special needs who receive a HUD Housing Choice Voucher through SHHP the option of using their voucher toward the purchase of a home. Cindy was the 50th person SHHP has helped in Colorado to use their voucher to purchase a home. She received other assistance from the Colorado Housing and Finance Authority and the Colorado Housing Assistance Corporation in the form of downpayment and homebuyer education.
More information can be found on these websites.
HUD's Homeownership Voucher Program (http://www.hud.gov)
Colorado Department of Human Services, Supportive Housing and Homeless Programs (SHHP) (http://www.cdhs.state.co.us/shhp/Homeownership.htm)
Colorado Housing and Finance Authority (http://www.colohfa.org/)
Colorado Housing Assistance Corporation (http://coloradohousingassistance.org/)
Content Archived: April 5, 2011