Rick M. Garcia Regional Administrator-Region VIII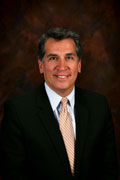 Rick M. Garcia serves as Regional Administrator for the U.S. Department of Housing and Urban Development's (HUD) Region VIII in the administration of President Barack Obama.

Rick M. Garcia serves as Regional Administrator for the U.S. Department of Housing and Urban Development's (HUD) Region VIII in the administration of President Barack Obama. In addition, Mr. Garcia was designated as Senior Policy Advisor to HUD Secretary Shaun Donovan on Sustainability representing the field offices. He also serves as HUD liaison to the Denver Metropolitan's Regional Air Quality Council which advises the Governor and the General Assembly on Environmental Protection Agency's air quality standards.
Mr. Garcia oversees the delivery of HUD's homeownership, affordable housing, community development, fair housing, and Native American housing programs on behalf of HUD Secretary Shaun Donovan. He directs the management of HUD's regional office in Denver, and field offices in Casper, WY; Helena, MT; Salt Lake City, UT; Sioux Falls, SD; and Fargo, ND. Mr. Garcia is HUD's liaison to congressional representatives, governors, mayors, state and local officials, and customers throughout Region VIII. The region, based in Denver, includes the states of Colorado, Utah, Wyoming, North Dakota, South Dakota, and Montana. Mr. Garcia was appointed in March 2010 and is one of 10 regional directors in the United States.
Prior to joining HUD, Mr. Garcia was elected to the Denver City Council in June 2003. Throughout his tenure, he made economic revitalization, access to new transit projects and business development his priorities. Garcia was recognized in 2006 by the Hispanic Contractors of Colorado and the Denver Hispanic Chamber of Commerce as Government/Community Advocate of the Year.
Mr. Garcia was an elected RTD Board Commissioner and is credited for bringing necessary stability and credibility to the RTD board, which led to the voter's successful passage of the FasTracks initiative. In 1985, Garcia founded the Denver Enterprise Center, a small business incubator with the support from then Mayor Federico Peña.
He served as State Director of Small Business Development in the Office of Former Governor Roy Romer and started his business development career with the E. W. Hahn Company of San Diego, CA, one of the country's largest real estate shopping center developers. While living in Pueblo, he also worked for the Pueblo Economic Development Corporation.
He is a former Board Chair of the Colorado Housing and Finance Authority, Vice Chair of the NEWSED Community Development Corporation and is a founding Community Advisor to the University of Colorado's Latino/a Research and Policy Center. Garcia also served as a board member and as chair of the Denver Regional Council of Governments (DRCOG). He served as Chairman of multiple committees, including the Metro Vision Issues Committee, the Neighborhood Community and Business Revitalization Committee, and the Regional Transportation Committee while on the Denver City Council. He served as co-chair of a newly formed Foreclosure Task Force designed to look at the city's growing problem relative to home foreclosures and abandoned properties.
Mr. Garcia served as past chairman of the Council's General Government and Public Safety Committees and as a member of Economic Development, FasTracks, and Blueprint Denver Committees. In 2005, he was instrumental in the passage of the ballot initiative that approved the building of a new Denver Justice Center.
He sponsored legislation that created the City's Crime Prevention and Control Commission, which he chaired. He formed a Redevelopment Task Force with the support of Mayor John Hickenlooper that was responsible for creating a community redevelopment plan for the St. Anthony's Central Hospital's 16 acre campus after the hospital announced its plans to relocate to Lakewood.
Mr. Garcia earned his Master of Public Administration Degree from the Harvard University's John F. Kennedy School of Government and holds a Bachelor's Degree in Business administration from Columbia College. He is married to Loretta P. Martinez, Esq., originally of Pueblo, CO, and they have three daughters.
###