Emerging Opportunities
HUD collaborates with the State of Colorado and the City of Rifle on their Sustainable Communities Challenge Grant.
Rick Garcia, Region VIII Regional Administrator met with City of Rifle Mayor Jay Miller and other State and city officials in May 2012. They went to tour the City of Rifle and review their progress with the implementation of the 2010 Sustainable Communities Challenge Grant. The City of Rifle held a week long design effort in April 2012 with local leaders.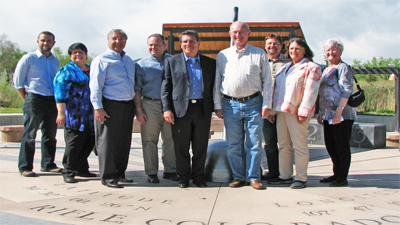 left to right: Nathan Lindquist, City of Rifle; Guadalupe Herrera, HUD; Tony Hernandez, Director Department of Local Affairs, State of Colorado; Mike Braaten, City of Rifle; Rick Garcia, Regional Administrator, HUD; Jay Miller, Mayor, City of Rifle; Michael Langhorne, President of Rifle Regional Economic Development Corporation; Sally Brands, President of Downtown Development Authority; Nella Barker, Downtown Development Authority
Their enthusiasm was evident during their presentation to HUD and State officials. They have identified opportunities available to them for transit oriented development and downtown Redevelopment.
The City of Rifle is looking at housing and economic opportunities adjacent to the Colorado River and Rifle Creek. Initial design concepts have opened new and exciting opportunities for redevelopment in their downtown.
Read more about their "Emerging Opportunities."
Text version
PDF version
###
Content Archived: December 31, 2013