Achieving the American Dream
Stanislaw and Maria Adamczyk, along with two of their three daughters, moved into their new home just before Christmas. They were the winners of a homebuyer lottery held by the city of New Britain, CT. Nine families, all of whom were pre-qualified for a mortgage, anxiously waited to see if their name was chosen. The Adamczyk family was the lucky winner.

Maria Adamczyk placing her ticket in the lottery box.
The city of New Britain acquired the property in 2001 under HUD's Dollar Homes initiative. This program helps local governments provide housing opportunities for low- to moderate- income families and address specific community needs by offering them the chance to purchase qualified HUD-owned homes for $1 each.
The structure was found to be too dilapidated to be rehabilitated and was demolished in 2003 with HOME funding assistance. In August of 2003, participants in the YouthBuild program began construction of a new single-family home with three bedrooms, one and one half baths and a full basement. The YouthBuild Program, which trains at-risk youth for futures in the trades, is a joint effort of the city through the Department of Municipal Development and the Human Resources Agency.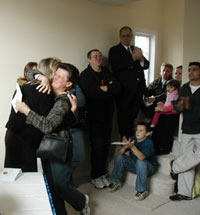 Maria Adamczyk hugging New Britain Department of Municipal Development's underwriter, Deborah Anderson, after announcement of the winner.
The location of the project in the North/Oak area of the city represents a continuation of investment by the city in the neighborhood. Other projects include six homes by Habitat for Humanity on Oak Street; Willow Street Park and Head Start improvements; Urban Oaks Organic Farm; five new homes on Tremont/Lawlor/Bartlett Streets; a new police substation; a Neighborhood Housing Services Community and Housing Development Organization (NHS CHDO) project on Sexton Street, and Community Development Block Grant funded demolition of dilapidated structures.
With the help of HUD and our local partners such as the city of New Britain, the American Dream of homeownership is achieved every day in this country, often by families who thought a home of their own remained out of reach.
Content Archived: March 21, 2011