A Vision Made Reality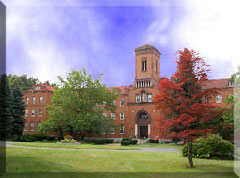 Motherhouse as it looked prior to 2001
In the early 1900s, the motherhouse of the Daughters of Mary of the Immaculate Conception was built in New Britain, CT to house the religious order of nearly 200. By 2001, occupancy had dwindled, and the Daughters began planning for the building's reuse.
In keeping with the mission of the Order's founder, the late Right Reverend Lucian Bojnowski, and in answering the city's need for more elderly housing and daycare, the Daughters' plans moved forward.
With determination and patience, the Daughters set forth to accomplish their vision. They attended a HUD grant writing class and submitted an application for Section 202 program funding. Virtually unheard of, on their very first try, their application received approval. In addition to receiving $6.3 million in Section 202 program funds, they received $2 million in HOME funds from the Connecticut Department of Economic and Community Development and $100,000 in HOME funds from the city of New Britain.
When complete, the five-story, 88,000-square-foot complex will contain 42 elderly housing units, an adult daycare center, a child daycare center, eight units for visiting Daughters and an executive office. A vision has been realized!
Visit HUD's website to learn more about the Section 202 Supportive Housing for the Elderly program.
| | |
| --- | --- |
| Daughters of the Order in front of the Motherhouse | The rehabilitation work will keep much of the marble detailing in place |
Content Archived: March 21, 2011