HUD Provides Section 3 Training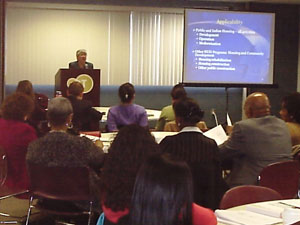 HUD FHEO Program Analyst Merryl Gibbs conducts training session.

On January 26, 2012, Fair Housing and Equal Opportunity (FHEO) Program Analyst Merryl Gibbs conducted a one-day training session covering the fundamentals of Section 3 as it applies to HUD-assisted programs, including programs funded by Community Planning and Development (CPD), Public and Indian Housing (PIH) and Multifamily Housing. The Section 3 program requires that recipients of certain HUD financial assistance, to the greatest extent possible, provide job training, employment and contract opportunities for low- or very-low income residents in connection with projects and activities in their neighborhoods.
The training was held in Hartford, CT at the Community Renewal Team, Inc.'s facility. HUD's Boston FHEO division provided the training with support from the Hartford FHEO and Field Policy and Management (FPM) divisions. FPM staff handled the logistics for the training.
Participants included representatives from local governments, housing authorities, housing developers and management agencies, contractors, state agencies and advocacy organizations. Forty-eight people attended the training session.
###
Content Archived: January 17, 2014