North Hartford Promise Zone Affordable Housing Complex
A ribbon-cutting ceremony for Hartford, CT's Nelton Court was held on October 25, 2015. Located in the North Hartford Promise Zone, the original 157-unit complex, built in the 1940s, was a severely distressed public housing property. The newly transformed complex now contains 80 spacious walk-up units with green space buffers and a community center. The project includes an additional 8 units located across the street that are currently being rehabilitated.
Before and after view of Nelton Court, Hartford CT
Ninety-seven percent of the entire project budget was funded by HUD at a total cost of $26.4 million. The funding includes Public Housing Replacement Housing Factor (RHF) funds, a Public Housing Capital Fund program grant, an Economic Development Initiative (EDI) grant and Capital Funds Financing program (CFFP) funds.
Additional funding was provided by the Connecticut Department of Economic and Community Development's (DECD) Brownfield grant and the Connecticut Light and Power Company (CL&P) energy rebate. Occupants will begin moving in the first week of November.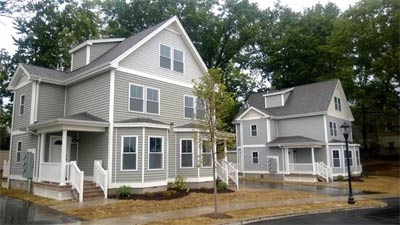 Apartment units at Nelton Court, Hartford, CT
###