Park West Receives a Facelift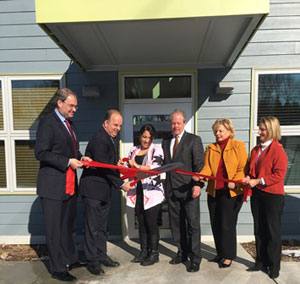 (l to r) Connecticut Housing Finance Authority Director Karl Kilduff, Vernon Mayor Daniel Champagne, Park West resident Cristal Munoz, The Community Builders Chief Executive Officer Bart Mitchell, HUD Hartford Field Office Director Suzanne Piacentini and Connecticut Department of Housing Commissioner Evonne Klein

On January 14, 2016, U.S. Department of Housing and Urban Development, Connecticut Housing Finance Authority and State of Connecticut representatives joined Vernon Mayor Daniel Champagne, community leaders and owner, The Community Builders, to celebrate the redevelopment of Park West, an affordable housing complex in Vernon.
Park West has a long history with HUD. First developed under HUD's mortgage insurance programs in 1969, it received project based Section 8 funding; it was renovated again in 1996 under HUD's Section 236 Preservation Program. The property features 189 units of one, two and three bedroom apartments and 20 supportive housing units.
Eighty-four percent of the tenants receive project based Section 8 rental assistance. HUD is contributing $1.9 million annually in subsidy for the next twenty years.
Additional funding was provided by the state's Competitive Housing Assistance for Multifamily Properties, Connecticut Housing Finance Authority Tax Exempt Bonds and Low-Income Housing Tax Credits.
###