Groundbreaking Ceremony Held for Norwalk's Washington Village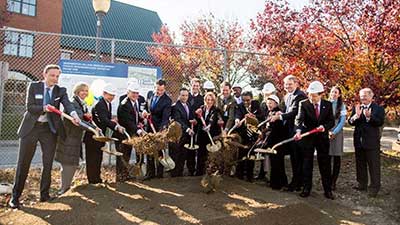 Officials at groundbreaking ceremony for Norwalk's Washington Village


On November 28, 2016, a groundbreaking ceremony was held for Norwalk's Washington Village, a recipient of a Choice Neighborhoods implementation grant. Phase 1 of the 3 phase Washington Village Transformation Plan will begin construction in December, 2016 and will provide 80 mixed-income units on Day Street in South Norwalk. Governor Dannel Malloy, Congressman Jim Himes, Norwalk Mayor Harry Rilling, Connecticut Department of Housing Commissioner Evonne Klein, and Regional Administrator Jim Reed joined over 100 others in attendance at the ceremony.
Phase 1 will include 40 units for public housing residents, 18 units for moderate income residents and 22 market rate units. Phase 1 is expected to be completed by March, 2018. Once completed, the Washington Village Transformation Plan will replace the 136-unit Washington Village public housing complex, the oldest public housing complex in Connecticut, with a total of 273 new apartment units. In addition to 136 units of public housing, 67 units have been designated for moderate income residents and 70 will be market rate units. The 136 public housing units will consist of 31 one-bedroom, 70 two-bedroom, 31 three-bedroom and 4 four-bedroom apartment units.
HUD awarded the Housing Authority of the city of Norwalk a $250,000 Choice Neighborhoods planning grant in 2010 and a $30 million Choice Neighborhoods implementation grant in 2013. Additionally, HUD provided nearly $10 million in Community Development Block Grant Disaster Recovery Assistance (CDBG-DR) funds that were allocated by the state of Connecticut as a result of damages sustained from Hurricane Sandy.
###