Bridging the Digital Divide in Connecticut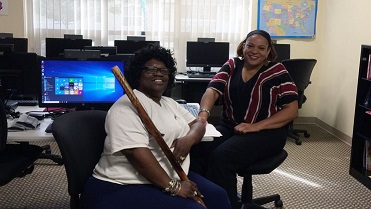 New Haven Housing Authority residents, Laura Harrell and Melanie Post, utilize the Quinnipiac Terrace community computer lab.


Hartford's Field Policy and Management staff are working with local partners in New Haven and Meriden on the ConnectHomeUSA (https://www.connecthomenation.org/) initiative to help HUD-assisted households gain access to the internet. Recently, members of the Hartford Field Office joined Stuart Ott, Chief of Enterprise Infrastructure Services from the Department of the Interior and part of the President's Management Council Interagency Rotation Program on detail with HUD Headquarters to conduct site visits to New Haven and Meriden, both ConnectHomeUSA sites. These visits offered the chance to provide technical assistance on networks, wireless deployments, devices and to share information on what has worked in other communities, including future partnerships across federal and local government, private industry and nonprofit organizations.
Meriden's meeting focused on its achievements and challenges connecting residents to the internet. Meriden Housing Authority plans to include Wi-Fi in all new public housing projects.
In New Haven, the meeting focused on how to bridge the digital divide for low-income families in HUD-assisted housing since approximately 20 percent of all public-school children live in units that are directly or indirectly owned by the New Haven Housing Authority. Some of New Haven's goals include expanding the installation of Wi-Fi to include community rooms at new developments and in over 600 renovated apartments at 12 properties.
Digital and employment training for individuals or families with children are being offered by both Housing Authorities.
###