IN FLORIDA, RECOVERY AFTER HURRICANE IRMA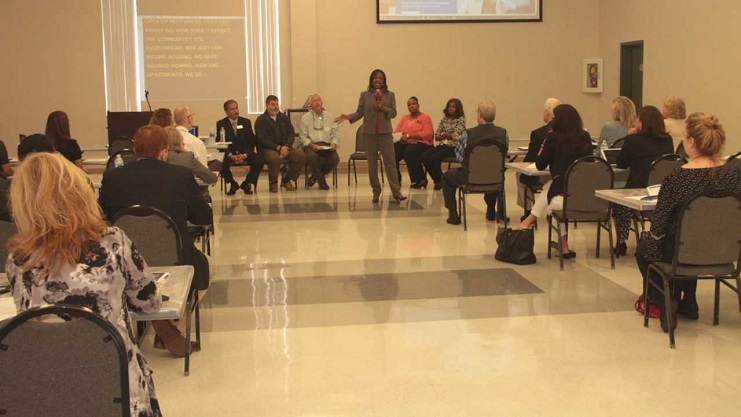 Alesia Scott-Ford, HUD Field Office Director in North Florida addresses Recovery Workshop participants.


Long term recovery in Florida after Hurricane Irma has many faces. While Collier and Lee counties want to focus on rebounding business and tourism, Citrus, Hendry, and Polk counties are interested in what can be done to improve agriculture. Meanwhile Monroe county is seeking all possible alternatives to restore aquaculture and bring workforce housing to their area as a tool to help with their tourism recovery.
Conduit to understanding the different unmet needs for each area were workshops on Economic Resiliency and Recovery held across the most impacted Hurricane Irma areas, which included the ten counties of Brevard, Broward, Collier, Duval, Lee, Miami-Dade, Monroe, Polk, Orange, and Volusia. The events took place in February and provided community leaders an opportunity to learn more about their roles and how to prioritize actions for both short and long-term recovery efforts.
Federal, state and local agencies got together for the interactive workshops that provided participants with practical tools and inspiring examples to support critical economic recovery and long-term resiliency activities.
Hosted by the Economic Development Agency (EDA), participants included U. S. Department of Housing and Urban Development (HUD), Florida Department of Economic Opportunity (DEO), Florida Regional Planning Councils (RPCs), the International Economic Development Council (IEDC), and federal partners Department of Interior (DOI), Environmental Protection Agency (EPA), Federal Emergency Management Agency (FEMA), Health and Human Services (HHS) National Oceanic and Atmospheric Administration (NOAA), Small Business Administration (SBA), and U. S. Department of Agriculture (USDA).
HUD and the State placed great emphasis on how unmet housing needs can be addressed through the proposed economic revitalization and infrastructure activities and how funding can be used to restore, or improve the local economy through the attraction, retention, and return of businesses and jobs. Prioritization of small business was encouraged that can include loans and grants to businesses, working capital for businesses, revolving loan programs, job training, improvement to commercial districts, and other efforts to attract and retain workers in the disaster impacted community and how this will contribute to long term and restoration of housing. For more details, please read the summary of the workshops.
###