HUD No. 04-25-2011
Joseph J. Phillips
(678) 732-2943
For Release
Monday
April 25, 2011
---
HUD HOSTS "PROVIDING THE PIECES FOR SUSTAINABLE HOMEOWNERSHIP"
Foreclosure Prevention Workshop in Atlanta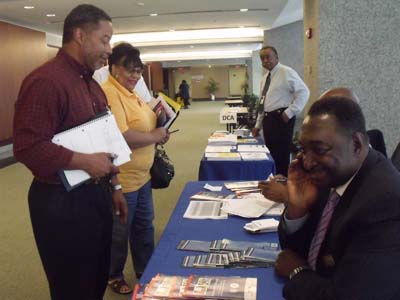 HUD Hosts "Providing The Pieces For Sustainable Homeownership" Foreclosure Prevention Workshop In Atlanta
ATLANTA - U.S. Housing and Urban Development Southeast Regional Administrator Ed Jennings, Jr. opened the HUD Atlanta Foreclosure Prevention Workshop entitled "Providing the Pieces for Sustainable Homeownership" today at the Sam Nunn Federal Building. The foreclosure prevention workshop was open to the public and public employees and had over 200 registered attendees.
The purpose of the workshop was to provide attendees with the latest information about programs that may help them or those they know with fighting foreclosure and to provide onsite housing counseling assistance.

Regional Administrator Ed Jennings, Jr. addresses the audience at the Atlanta HUD Foreclosure Prevention Workshop to his left is Karen Jackson Sims Deputy Regional Administrator.
"This collaborative effort among our local, state, and federal partners helps inform and arm affected Georgians with actionable information to combat foreclosures in these very challenging times." said Jennings.
Those attending were able to obtain the most recent information and strategies concerning fighting foreclosure through direct information sessions on FHA, VA and USDA-Rural Development programs. They were also were able to have the opportunity to meet one-on-one with a HUD-approved housing counselors or with a Freddie Mac or Fannie Mae representative to facilitate workout options with the mortgage servicer after the event.
The State of Georgia Department of Community Affairs (DCA), Deputy Commissioner Phil Foil also provided information about the new HomeSafe Georgia (https://www.homesafegeorgia.com/) mortgage payment assistance program for underemployed and unemployed homeowners facing foreclosure.
To learn more about avoiding foreclosure please go to Avoid Foreclosure: Georgia or www.hud.gov/georgia
###
HUD's mission is to create strong, sustainable, inclusive communities and quality affordable homes for all. HUD is working to strengthen the housing market to bolster the economy and protect consumers; meet the need for quality affordable rental homes: utilize housing as a platform for improving quality of life; build inclusive and sustainable communities free from discrimination; and transform the way HUD does business. More information about HUD and its programs is available on the Internet at www.hud.gov and espanol.hud.gov. You can also follow HUD on Twitter at @HUDnews or on Facebook at www.facebook.com/HUD, or sign up for news alerts on HUD's News Listserv.