HOME VALUES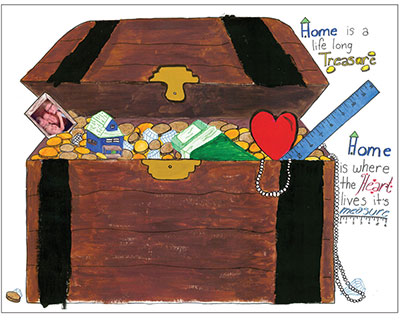 Art work from the 'What Home Means to Me' contest sponsored by the National Association of Housing and Redevelopment Officials


BOISE - For decades the radio and TV personality Art Linkletter made a career out of proving that Kids Say the Darndest Things. He might have added that, sometimes, they also say the wisest.
Like an 11-year-old kid named Hanna F., an elementary school student in Boise, Idaho. She, her two brothers and their mom, an employee of the Boise School District, live in an apartment made affordable thanks, in part, to HUD rent subsidies provided to some 2,000 households by the Boise/Ada County Housing Authority.
That's what made her eligible to enter an essay and art work in the National Association of Housing and Redevelopment Officials annual nationwide "What Home Means to Me" contest that's part of NAHRO's Housing America campaign to "make housing a national priority."
It's clearly one of Hanna's priorities. "Home is a place of shelter and care," she wrote in her essay. "Home is a place where you're always welcomed. Home is a life-long treasure. Home is where the heart lives its measure"
This is the 8th year NAHRO's hosted the "amazing" competition "that allows children who reside in affordable communities to share their ideas and feelings about the important mission of housing and community development agencies," said Clifton Martin, Chair of the Housing America Task Force. Their essays and art work, he added, "inspire those of us administering these programs to keep creating, designing and building safe and viable housing resources so these children can achieve their dreams."
Hanna not only finished among the top 10, but took home the grand prize. It's "a wonderful accomplishment for a young artist," said Housing Authority Board Chairman Brand Foltman at a special ceremony at her old elementary school also attended by the Superintendent of Schools, two State Representatives, the chief of staff to the Ada County Board of Commissioners, a staff member representing U.S. Senator James Risch and, best of all, Hanna's former and current classmates. It was a great day.
But the celebration didn't stop there. As the grand prize winner, Hanna also won an all-expenses trip to Washington, D.C. next spring. And her art work will grace the cover of a Housing America calendar for 2016 displaying the work of all the national winders that will be distributed to all 535 members of the Congress.
With more than 214,000 residents in 2013, Boise is Idaho's largest and its capital city. It's a place where people want to be, year-after-year ranking in the top 10 of any "best places to live" survey of American cities.
It's no wonder, then, that residents of Boise find themselves embroiled in a debate over the shortage of affordable housing. The more popular the place, the more likely its residents will face rising rents and home prices...
"Price" usually is the flash-point or focus of that debate in most cities. But, as Hanna reminds us, it's not at the core of the issue. A home is not just four walls and a roof, not just a question of price-per-square foot. A home, as she suggests, is a place that shelters us, cares for us, that welcomes us, that teaches us lessons and gives us memories we'll treasure for a life-time, a place, that more than any other, allows our hearts to live their measure. The price of the house, its view from the front window or whether it's got a one- or two-car garage is, her words suggest, secondary.
And right she is. Not bad for an 11-year-old kid or, for that matter, for those of us who are considerably older, but not necessarily any the wiser.
###