Disabled Veteran Finds Life Changing Information at Resource Fair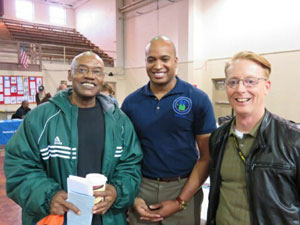 Veteran seeking resources with HUD Kentucky Field Office Director Christopher Taylor and Ron Georgette of Centerstone.


A disabled veteran who has fallen on hard times attended the Barren County Veteran Resource Fair. Little did he know how much this could change the quality of his life. He has a night job that does not pay well and needs a better place to live for his children.
Sponsored by Western Kentucky University, the Veteran Resource Fair offered a full spectrum of services available for veterans. Several booths provided educational and employment services and gave him information to follow up on to help him get a better job.
Then he happened to meet HUD Kentucky Field Office Director Christopher Taylor as he mingled among the crowd where he learned about how to apply for both public housing and a Veterans Emerging Towards Transition (VETT) voucher [www.kyhousing.org/Specialized-Housing/Pages/VETT-Vouchers.aspx]. Both options would help improve his housing situation. With the additional support provided by VA's Supportive Services for Veteran Families explained by Ron Georgette of Centerstone, he could also receive a full range of services to help him as well.
Mr. Taylor explained to him all of the partnerships HUD has created between the Kentucky Department of Veteran Affairs, VA's Supportive Services for Veteran Families, public housing authorities, and Kentucky Housing Corporation. He told him that he could receive quality, affordable housing and ensure that he receives all of the VA benefits that he is entitled to. He was overwhelmed with the opportunities opening up to him just for attending this event.
"We believe in fighting for our veterans just as they have fought for us," said HUD Kentucky Field Office Director Christopher Taylor. "We are not just about housing our veterans, but also about ensuring that they will succeed in having a better quality of life." An additional benefit to being at the Veteran Resource Event was the opportunity for Christopher Taylor to discuss the Challenge to End Veteran Homelessness with the Barren County Judge/Executive, the Tomkinsville Mayor, and the newly elected Glasgow Mayor who all pledged their support for the initiative that will end veteran homelessness by the end of 2015.
###