Friendship Houses Build Community
What is a Friendship House? It's a unique strategy for neighborhood redevelopment--something like a community center in a home. It's a place for after-school education programs; character building; service projects; GED courses; tutoring; computer training; art and music lessons; family nights and much more. This is not a 9-to-5 endeavor.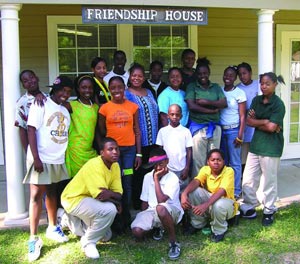 Cedar Grove neighborhood children gather daily at their Friendship House.
Shreveport-Bossier Community Renewal (SBCR) moves community coordinators and their families into Friendship Houses to live in distressed neighborhoods, to be catalysts for change and to support the redevelopment of caring relationships necessary to reclaim struggling communities.
The trained Community Coordinator and family who live in the house not only help the neighborhood - they become a part of it. They spend time with their neighbors and earn the trust of individuals, families, groups and agencies in the area. The relationships they form become the foundation to facilitate a process for residents to set and achieve basic goals in the areas of community, education, leadership, housing, health, safety and meaningful work.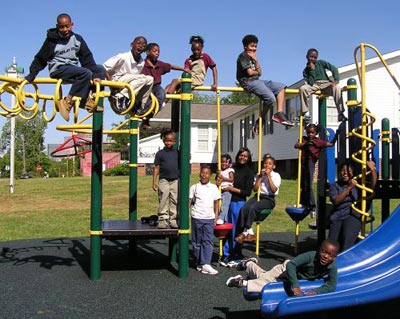 Children in the Allendale neighborhood love the large playground.
With funding from entitlement cities for infrastructure improvements coupled with donations and volunteers from businesses, churches and civic organizations, Friendship Houses are springing up as havens of hope in areas of Shreveport-Bossier most in need of restoration.
The first Community Renewal Friendship Houses opened in two struggling Shreveport neighborhoods in the spring of 1997 and summer of 1998. Built where crime was high and gangs were active, the Friendship Houses made a tangible statement about caring commitment to neighborhood residents.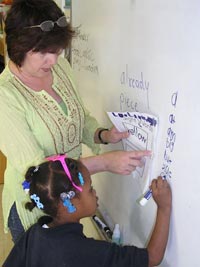 Tutoring is a regular activity at the first Barksdale Annex Friendship House in Bossier City.
Facing doubt and skepticism from some in the community and even from their own families, community coordinators moved into the Friendship Houses in some of the city's toughest residential areas. They reached out to those with broken dreams and broken homes, and over time, the streets became safer, more children succeeded in school, strangers became friends and hope was restored.
In Highland, a transitional neighborhood with a growing crime problem, SBCR opened its first Friendship House in May of 1997. A second opened in 1998 and community coordinators gradually brought some unity to a diverse population. More than 400 children have now passed through the doors of the first Friendship House and many of them have returned to serve as volunteers.
Cedar Grove the site of a drug-related shooting and subsequent riot in1988 that drew national headlines, was the location for one of the first Friendship Houses constructed by Community Renewal. Drug traffic was so intense on the street where the first Friendship House was built that the street was referred to as "cocaine alley." Today, the drug houses are gone and children can be seen daily at the Friendship House, completing homework, building positive relationships and working on service projects to further improve their neighborhood.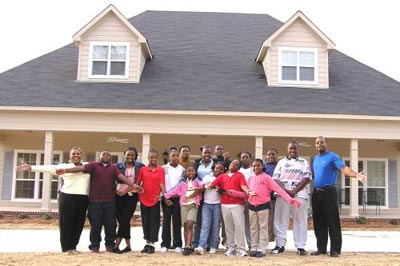 The first Friendship House built by the team of professional golfer David Toms opened in Queensborough in 2006.
Allendale, one of Shreveport's most distressed areas suffering from high crime and unemployment, was a neglected area where many families still lived in "shotgun houses" in miserable states of decay and disrepair. Two Friendship Houses opened in 2002 and had an immediate impact on the crime rate and educational skills of youth in the neighborhood.
A few years ago, crime was so rampant in the Bossier Annex area of Bossier City that taxi drivers refused to go into the neighborhood. Then in 2003, Shreveport-Bossier Community Renewal (SBCR), an interdenominational faith-based nonprofit opened a "Friendship House" and before long, the taxi drivers returned. Civic groups, churches, businesses and other groups joined with Community Renewal to support the revitalization of the neighborhood. Crime came down and the neighborhood took on visible signs of a strong sense of community.
Now, thanks to a $100,000 gift from the David Toms Foundation, construction has begun on a second Friendship House in Barksdale Annex. It will be the ninth one operated by Community Renewal in Shreveport-Bossier City neighborhoods. In each, Friendship Houses have helped to reduce crime and unify residents while providing educational opportunities and service projects for neighborhood youth and adults.
More than 1,700 at-risk youth have been helped through SBCR Friendship Houses. Community Coordinator Manuela Standard will move into the new house in Barksdale Annex with her family later this year. She leads a "Kids Club" now in another Friendship House. "I want all the children to know they are precious. Some of them may be troublemakers in a large group, but they can be leaders. I want them to excel and have a sense of self-respect. I want them to know they have gifts and talents."
A look at the faces of children and families served by these incubators for caring, healthy communities leaves little doubt. They are part of something special indeed.
Learn more about SBCR at http://www.sbcr.us/