New Affordable Housing Condos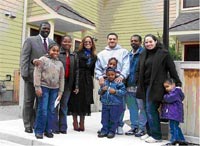 New England Acting Regional Director Miniard Culpepper with new homeowners.
HUD's New England Acting Regional Director Miniard Culpepper participated in a ribbon-cutting ceremony at Uva Douglas Estates at Sugar Hill, a 16-unit affordable housing condo development in Boston.
The development was almost half complete in 2002 when arsonists torched the site during construction. The development was formerly known as the Townhomes at Franklin Highlands, but has been renamed in honor of Uva Douglas, a 82 year-old neighbor who was killed in the fire.
The 16 affordable condos are the first and only homeownership units created under the Demonstration-Disposition program, which has renovated 1,850 rental units in 11 subsidized developments in Boston.
"What we have been able to accomplish with the Demonstration-Disposition program is truly remarkable," said Culpepper. "We have completely transformed neighborhoods and have given residents a new lease on life."
Each of the 16 condos was sold to low- and moderate-income first-time homebuyers who were selected through a lottery.
Content Archived: March 21, 2011