Pilot Tenant Education Program a Great Success!
In addition to the holidays, residents at Maritime Apartments in Bath, Maine had one more reason to celebrate - "Graduation!" In December, participating residents of the HUD-assisted development completed the six-module course entitled "Renting and Residential Living Made Easy."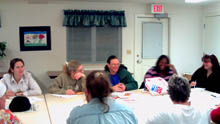 Maritime Apartment residents participate in the tenant education program
The course was conducted by Maritime's Resident Service Coordinator. Topics included fire safety, money management, decorating in small spaces, stress/time management and a review of lease requirements.
The primary goal of the program is to assist residents in achieving and maintaining a successful residency. The secondary goal is to provide an opportunity for residents to meet some of their neighbors and to connect with their Resident Service Coordinator and/or Site Manager. Each module reinforces the common and secondary goals through awareness, education, skills building, resources and support.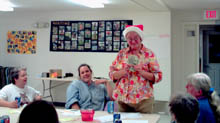 Resident education program pays off

Childcare was provided for each of the 90-minute sessions. Residents who attended all six sessions were entered into a final drawing for a grand prize of $500 cash and a second prize of $200. All "graduates" received gift cards. Just in time for last minute holiday shopping!

For more information on the "Renting and Residential Living Made Easy" program, contact Cathie Whitney, C & C Realty Management, LLC (http://www.ccrealtymanagement.com), in Augusta at (207) 621-7700, or email cwhitney@ccrealtymanagement.com.

Visit HUD�s website to learn how HUD funds Resident Service Coordinators in Multifamily Housing.

Content Archived: March 21, 2011