Summer 2006 Mentoring Program Launched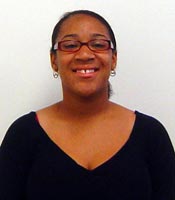 Krishelle Gaines enjoying her exposure to HUD
Krishelle Gaines became the fifth student that the Las Vegas Field Office staff has mentored. Las Vegas Field Office Director, Kenneth J. LoBene, states, "It's great again for HUD to launch our fifth year in opening its doors to our partners who provide the opportunity to attract young adults into the public sector and for the youth to understand the importance of giving back to their neighborhoods and communities."
The Summer Business Institute is sponsored by a partnership of Clark County Government and 70 Southern Nevada businesses. They promote summer employment for inner city junior and senior high school students. The Clark County Summer Business Development Division pays Krishelle.
Ms. Gaines is assigned to the office of Field Policy Management (FPM.) She is required to work and learn various programs in support of HUD goals. With little training or supervision, she has been able to complete all tasks assigned to her.
The Las Vegas HUD office is proud to have such a great candidate. Krishelle just graduated from Las Vegas Academy. She has been involved in the Summer Business Development program for three years.
Ms. Gaines has been accepted to attend Winston-Salem State University in North Carolina. She will start in August 2006 and will major in Business Administration with an emphasis in Management.
Krishelle's long-term goals are to create a non-profit organization to work with social welfare programs in order to benefit those who are economic and geographically disadvantaged. Her hopes are to improve the conditions of those people that she will encounter.
The HUD Las Vegas Field Office personnel have contributed to Krishelle's development, in addition to the mentors she has worked with over her three years of experience. They urge her to do well in serving the public. Bernard C. Yergeau, Operations Analyst in FPM, is the primary mentor for her training.