New York State Receives Public Housing Awards from HUD
HUD recently presented three awards to the New York State Division of Housing and Community Renewal (DHCR). At a special ceremony at the Hall of Science in Queens, NY HUD's Assistant Secretary for Public Housing, Orlando Cabrera, along with NY/NJ Regional Director Sean Moss, presented the awards. DHCR received this important recognition for its exemplary work in three areas.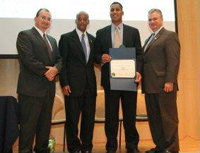 Pictured left to right: Luigi D'Ancona, Deputy Director NY Office of Public Housing, HUD; Sean Moss, HUD NY/NJ Regional Director; and Assistant Secretary Orlando Cabrera (far right) present award to Clifford Scott, Director of Statewide Section 8, (left of Mr. Cabrera) for conducting a High Performer Section Eight Management Assessment Program (SEMAP).
First, DHCR was recognized for its work in partnering with the Department to address troubled and over-leased housing authorities (PHAs). Working to successfully transfer the administration of Housing Choice Voucher assistance in such cases has resulted in greatly improved customer service for our clients. In addition, by accepting families from over-leased PHAs, DHCR has preserved Housing Choice Voucher assistance for over 100 families. DHCR accepted the full programmatic responsibility of these vouchers to its program. This dedication has not only allowed DHCR to provide quality service to the families in need but it also improved the overall management of the program.
The second award was for "Exemplary Leadership in Promoting Homeownership within the Housing Community". Since 2000, agencies that receive Housing Choice Voucher (Section 8) funding have been able to apply these funds to home ownership programs, rather than for paying rent. DHCR is number one nationally in utilizing HUD funding in that matter having had a total of 85 active homeownership closings downstate and 64 upstate for a total of 149 statewide since the inception of program. In Suffolk County and Ulster County alone they have had 30 and 27 closings respectively.
Finally, DHCR's Statewide Housing Choice Voucher (Section 8) program was recognized by the Department to be a "High Performer" in its activities. This is highest rating HUD gives to the public housing agencies it reviews. DHCR has now received this designation two straight years. Congratulations to DHCR and thank you for your hard work!
Content Archived: March 07, 2011