Notable "Women of HUD" Celebrate Women's History Month
Panel of 5 shares their histories - personal experiences about being a woman in the workplace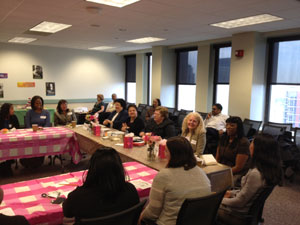 (l-r) Teresa Bainton, Mirza Orriols, Patricia Hoban-Moore, Annemarie Uebbing, and Sherron McLaughlin

Women's History Month is coming to a close and five invaluable women at HUD took some time out of their busy schedule to share their personal history in the workplace as it relates to being a woman, and the challenges and lessons they learned along the way. Panelists Patricia Hoban-Moore, Director of Field Policy and Management; Mirza Orriols, Acting and Deputy Region II Regional Administrator; Teresa Bainton, Director of New York Family Hub; Annemarie Uebbing, CPD Director, Newark Field Office; and, Sherron McLaughlin, IT Specialist, shared their personal stories with over 50 members of the HUD staff that attended the event.
The Women's History Month celebration was organized by the HUD Special Emphasis Committee (SEC) and the HUD Under 5 group. Allison Richards from Community Planning and Development moderated the entertaining event, asking pointed questions and aptly prompting panelists to expand on personal areas of their lives that could set an example for other women in the workplace. Prizes were awarded to trivia experts who were able to correctly answer questions about historical figures and prominent women that were trailblazers in women's civil, workplace and political rights.
The SEC and NYC Under 5 would like to thanks Mirza Orriols and the Women's History Month committee members for their hard work and dedication in celebrating the women of HUD: Kristin Ackerman, Amy Apple, Shawna Burrell, Andrea Hodge, Amie Kabia, Jessica Katz, Aya Keefe, Rose Kim, Erica Levin, Cynthia McKnight, Susanna Mitchell, Isaac Nyarko, Eugenia Ramos, Allison Richards, and Wendy Santiago.
###