HUD Celebrates New Housing in Bay Shore, Long Island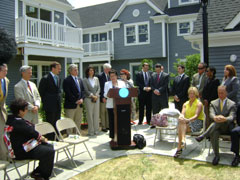 Acting Regional Administrator addresses the crowd while to her immediate right are Suffolk County Executive Steve Bellone and Islip Town Supervisor Tom Croci

Acting Regional Administrator Mirza Orriols visited Bay Shore, Long Island to celebrate the ribbon cutting of 40 new workforce homes on Mechanicsville Road. Ms. Orriols was joined by Suffolk County Steve Bellone, Islip Town Supervisor Tom Croci, Long Island Housing President/CEO Peter Elkowitz, and numerous lenders, business and civic leaders.
The two- and three-bedroom condominium development, located a block from the Long Island Railroad, is the latest in a series of efforts to bring more housing and economic vitality to the Bay Shore community.
"Gaining financial backing and credit in a fragile economy is no easy task, and that is why this partnership deserves high praise in never giving up on its dream," said Orriols. "HUD is very proud to be a partner in this extraordinary collaboration."
The Long Island Housing Partnership, which had previously developed 92 workforce homes in Bay Shore at South Wind Village and Sunnybrook, brought together more than $13 million in public and private funding to complete the development. Nineteen units in the new development have already been sold to first-time homebuyers, with several more in contract.
"The Cortland Square Condominium Development assists in creating much needed workforce housing stock in Suffolk County," said Bellone. "As we continue to work to build Suffolk's economy, the public/private partnership displayed here highlights smart development. The county is a proud partner in this project and will continue to promote and support projects that strengthen the economic vitality of Suffolk County."
"At the end of the day, the work is all about the community and our homebuyers who would never have had an opportunity like this on the open market," said Elkowitz. "The commitment of our public and private partners made this possible, and we were grateful for the opportunity to lead this effort."
The Long Island Housing Partnership, one of HUD's strongest partners in promoting affordable housing, was founded in 1987 to address Long Island's high cost of housing and its effect on the local economy and the declining young adult population. LIHP has assisted more than 20,000 households over the past two decades.
###