New York Housing Conference Honors NY Hub Multifamily Director Teresa Bainton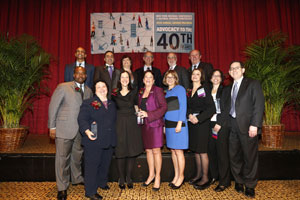 Teresa Bainton (first row, second from left) stands with other award winners and dignitaries

The New York Housing Conference, a coalition of New York nonprofit and private developers, owners, managers, and real estate professionals devoted to creating and preserving affordable housing, just gave its Public Service Award to Teresa M. Bainton, Director of the New York Multifamily Hub, at its 40th Annual Awards Luncheon held on December 5 at the New York Hilton in Manhattan. Over 1,100 government officials and affordable housing leaders attended the event which had former HUD Secretary Henry Cisneros as its keynote speaker.
Under Teresa's leadership, the New York Multifamily Hub created 4,000 new units of senior housing under HUD's Section 202 Program, amounting to $372 million in mortgages; preserved over 19,000 housing units under HUD's Section 236 Preservation Program, amounting to over $1 billion in mortgages; and preserved over 23,000 units under FHA's insured mortgage programs, amounting to more than $1 billion in mortgages. Teresa will soon be taking on a major promotion and a new set of responsibilities when her territory expands to include Connecticut, Massachusetts, West Virginia, Pennsylvania, New Jersey, Maryland, and Washington, D.C. with a regional office in New York City and a satellite in Boston.
"I am truly humbled and flattered by honoring me with this year's public service award. You know, the New York Housing Conference and I share something in common this year -- a 40th anniversary. And what a rewarding career it has been for me. It has given me great pleasure, through HUD's programs, to help provide and preserve affordable housing in one of the most expensive housing markets in the nation, assist communities in providing much needed public services, growth through economic development, and helping to provide housing and services for homeless families and our veterans," said Teresa.
###