Secretary Donovan Announces Winners of "Rebuild by Design" Competition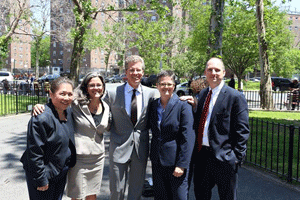 (L-R): The HUD RBD Team embrace the Secretary (Irene Chang-Cimino, Holly Leicht, Secretary Donovan, Marion McFadden, Scott Davis

On June 2, HUD Secretary Shaun Donovan visited New York City to announce the winners of a HUD sponsored regional design competition called "Rebuild by Design," that sought to develop innovative ways to protect vulnerable communities from future storms. The announcement was made at Riis Houses in lower Manhattan, part of the New York City Housing Authority, that experienced severe flooding during Hurricane Sandy that struck the area in late October 2012. The Secretary was joined by Governor Andrew Cuomo, Senator Charles Schumer, and Mayor Bill de Blasio. At a second event later that day, Secretary Donovan was joined by Governor Chris Christie and Little Ferry Mayor Mauro Raguseo in Little Ferry, New Jersey. The town was hit by an eight foot surge of water during Hurricane Sandy and will benefit from one of the winning designs.
"The winning proposals are truly transformative and serve as blueprints for how we can safeguard the region and make it more environmentally and economically resilient," said Secretary Donovan. "It's my hope that Rebuild by Design will inspire other public-private partnerships to spur innovation and resilience in other parts of the country and around the world. By investing in these proposals, we are going to ensure that when the next storm comes, the region will be safer and better prepared."
HUD allocated approximately $920 million to New York, New Jersey, and New York City to begin implementation of the winning projects. The funding is part of Community Development Block Grants- Disaster Recovery (CDBG-DR) program earmarked for the Sandy region.
The winning proposals come from six interdisciplinary teams representing some of the best planning, design, and engineering talent in the world. These inventive proposals are a blueprint for how communities can maximize resilience as they rebuild and recover from major disasters. HUD chose the winners for their excellence in design and resilience and their engagement with local communities.
The six teams with winning proposals are:
The BIG Team - The BIG U (East River Park) - Manhattan
The Interboro Team - Living with the Bay (Slow Streams) - Nassau County, Long Island
MIT CAU+ZUS+URBANISTEN - New Meadowlands - Little Ferry, Moonachie, Carlstadt, Teterboro
OMA - Resist, Delay, Store, Discharge - Hoboken, Weehawken, Jersey City
PennDesign/OLIN - Lifelines - Hunts Point, South Bronx
SCAPE/Landscape Architecture - Living Breakwaters -Tottenville, Staten Island
Rebuild by Design was created in the summer of 2013 by President Obama's Hurricane Sandy Rebuilding Task Force as a way to develop ideas capable of dramatically improving the physical, ecological, and economic resilience of coastal areas. The competition has produced regional, cross-disciplinary collaboration between state and local governments, regional nonprofit organizations, educational institutions, and the public. The Rockefeller Foundation has been the lead financial supporter of the competition. Teams worked to create coalitions with local and regional stakeholders to develop locally-responsive proposals to improve the resilience of waterfront communities. Financial support also came from the JPB Foundation, Deutsche Bank Americas Foundation, the Hearst Foundation, the Surdna Foundation, and the New Jersey Recovery Fund. The competition was administered in partnership with the Municipal Art Society, NYU's Institute for Public Knowledge, Regional Plan Association, and Van Alen Institute.
###