Newly-rehabilitated $21.7 million facility for the homeless features 98 apartments for homeless New York City residents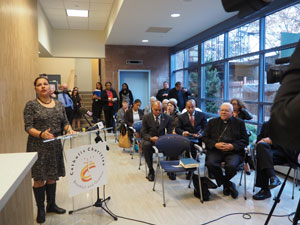 Mirza Orriols, HUD Region II D/Regional Administrator


Catholic Charities Brooklyn and Queens celebrated the renaming of the Bishop Joseph M. Sullivan Residence, formerly known as Our Lady of Good Counsel Single Room Occupancy Apartments. This newly-rehabilitated $21.7 million facility for the formerly homeless features 98 apartments, including 22 new apartments designated specifically for formerly homeless veterans. The rehabilitation, made possible with public and private funding, included a RAD conversion and HUD-VASH housing vouchers. HUD Region II D/Regional Administrator Mirza Orriols delivered remarks and highlighted the importance of HUD's programs:
"The preservation of affordable housing is one of our primary goals, and Bishop Joseph M. Sullivan Residence is a great example of accomplishing this mission through HUD's Rental Assistance Demonstration," said Mirza Orriols, HUD Region II Deputy Regional Administrator. "The program leverages public and private investment and reinvests in existing housing stock, keeping it permanently affordable. RAD and HUD-VASH housing vouchers help us reach the goal set by the Mayors Challenge, a White House initiative that aims to end veteran homelessness by the end of this year."
Located at 800 Madison Street in the Bedford Stuyvesant area of Brooklyn, the Bishop Joseph M. Sullivan Residence was originally three separate structures - an all-boys school, an all-girls school, and a rectory. It was later converted to supportive housing for formerly homeless adults and was recently renovated to add 22 new apartments. The lobby space was also renovated, along with new common areas and meeting rooms for the building's 98 residents. The renovations and new additions reflect a philosophy that encourages individual self-sufficiency within the context of a supportive community.
Bishop Sullivan became a proud member of the Catholic Charities family over fifty years ago, where his vision of serving those in need became his life's work. His life-long passion for social justice and affordable housing has resonated with a number of New York residents and with the help of Catholic Charities his spirit and mission will continue to live on.
Catholic Charities is also one of the largest faith-based providers of affordable housing in New York City, providing 3,750 units of housing for low-income seniors, families, and the formerly homeless, including 750 units of special needs housing, throughout Brooklyn and Queens.
| | |
| --- | --- |
| Rev. Msgr. Alfred P. LoPinto CEO Catholic Charities Brooklyn & Queens introduces homeless veteran and future resident Darryl Harper | Event Attendees |
###