HUD Regional Administrator Lynne Patton joins residents, partners to celebrate completion of renovations at Elbee Gardens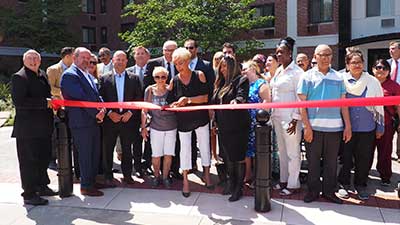 Officials and residents join in the ribbon cutting ceremony celebrating the completion of renovations at Elbee Gardens.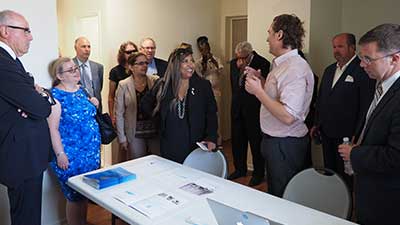 HUD Region II RA Lynne Patton tours Elbee Gardens, discusses systems features with Alan Arker and partners.


HUD Region II Regional Administrator Lynne Patton joined The Arker Companies, officials from the New York City Housing Development Corporation (HDC), New York City Department of Housing Preservation & Development (HPD), and project partners to celebrate the rehabilitation and preservation of Elbee Gardens, a 178-unit affordable housing development in the Grasmere neighborhood of Staten Island.
The apartments at Elbee Gardens serve low-income households, with all units benefiting from federal Section 8 vouchers which allow residents to pay no more than 30 percent of their monthly income towards rent. The building is currently 100% occupied. As vacancies arise, 36 of the units will be set aside for formerly homeless tenants.
Situated on nearly 8-acres of land, Elbee Gardens is a six-story elevator building that was initially financed as a HUD 236 project (https://www.hudexchange.info/programs/section-236-preservation/)and constructed in the early 1970s. The project had not received any significant capital improvements since it was first rented up in 1973. The substantial renovation work included complete replacement of the building's boilers, roof and elevators. The project also received extensive electrical, sewers, and façade work, along with renovations to apartment interiors, hallways and common spaces.
"Preserving and improving our existing affordable housing stock is a key strategy in meeting New York's housing needs" said Lynne Patton, HUD Regional Administrator for New York and New Jersey. "The extensive renovations at Elbee Gardens we celebrate today will keep this housing viable and keep the Grasmere community thriving for the next generation of New Yorkers."
###