HUD-Funded Newburgh Housing, Developments, Move the City Forward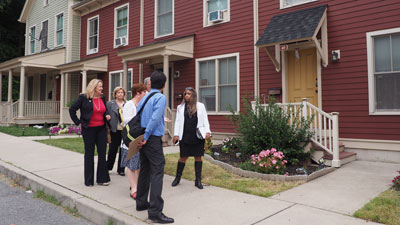 HUD Region II Regional Administrator Patton, HUD NY Community Planning and Development Director Vincent Hom, and City officials tour Habitat for Humanity houses guided by Habitat's Executive Director Dr. Cathy Collins.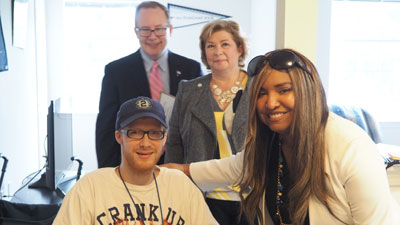 Derick, a new resident at Independent Living Inc., thrilled to be living independently for the first time, poses with RA Patton.


HUD Region II Regional Administrator Lynne Patton, toured the City of Newburgh hosted by City and County Community Development officials to meet HUD grantees and learn more about their challenges and successes.
The first stop was Independent Living, where the group toured the development that assists disabled residents and met Derick, a new resident happy to be living independently for the first time in his life. Next stop was Habitat for Humanity of Newburgh, where Dr. Cathy Collins took RA Patton on a tour of the significantly renovated housing in East Paramenter Street and visited units under construction on Washington Street. Both HUD grantees are proof that great public/private partnerships can change the lives of families that need a hand up, not a hand out. The day was rounded out by visiting other affordable housing sites under development, touring the north and the south sides, and ending at the famed Dutch Reformed Church likewise slated for redevelopment.
Richard Mayfield, Director of the Orange County Office of Community Development, led the tour and was joined by Orange County Deputy County Executive, Wayne Booth, and the Directors of Community Development for the Cities of Newburgh, Middletown and Port Jervis.
"I was pleased to meet our partners in Newburgh, Middletown, and Port Jervis who are working together to make a difference in the lives of so many residents," said Lynne Patton, HUD Regional Administrator for New York and New Jersey. "I am aware of the challenges that the City and County face and I am committed to working with each of them to further our shared mission of preserving our affordable housing stock and creating employment opportunities for low- and moderate-income families."
###