ASSISTANT SECRETARY ANNA MARIA FARIAS VISITS SCHENECTADY TO FAIR HOUSING 50TH ANNIVERSARY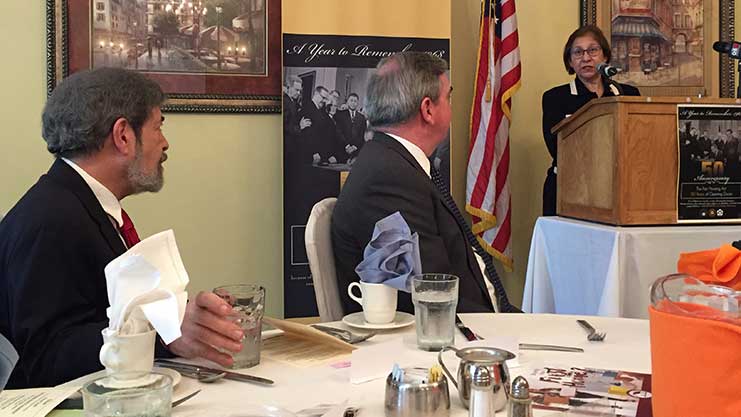 Assistant Secretary for FHEO Anna Maria Farias offers Keynote Address as Jay Golden, Region II FHEO Director, and Schenectady Mayor Gary McCarthy look on.


On a sun-drenched May 3, 2018, the City of Schenectady, NY celebrated the 50th Anniversary of the Federal Fair Housing Act with a Luncheon at the historic Stockade Inn. The theme, "Opening Doors for 50 Years", was highlighted in opening remarks by the Honorable Gary McCarthy, Mayor of Schenectady, and the Honorable Congressman Paul Tonko, US Representative for New York State's 20th Congressional District. Both esteemed gentlemen also read proclamations honoring Fair Housing Month. Region II FHEO Director Jay Golden followed with an overview of fair housing developments in our Region.
The highlight of the event was the Keynote Address offered by Assistant Secretary for the Office of Fair Housing and Equal Opportunity, Madame Anna Maria Farias, who spoke so eloquently about her personal journey and how it intertwined with HUD's commitment to fair housing for all. Following the formal portion of the program and the luncheon, additional speakers highlighted areas such as Section 3, homeownership, and the role that schools play in fair housing opportunities. Ahmad Yusufi, Schenectady Fair Housing Coordinator, and Andrij Pryshlak, HUD Buffalo FHEO Director, concluded the event with thanks to all for their continued commitment to fair housing. James Brylinski, Buffalo Acting Field Office Director, also participated in the event which was attended by over 100 city officials, fair housing advocates, bankers and realtors. To learn more about the Fair Housing Act's Past, Present, and Future, visit www.hud.gov/fairhousingis50.
###