HUD No. 16-048
Shantae Goodloe
(202) 708-0685
For Release
Wednesday
April 13, 2016
---
HUD AWARDS XENIA, OHIO $500,000 "MAIN STREET" GRANT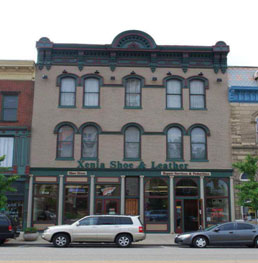 Main Street building in Xenia that will undergo renovations to include affordable housing.

WASHINGTON - The U.S. Department of Housing and Urban Development (HUD) announced today that the City of Xenia, Ohio is receiving a $500,000 grant to develop four affordable housing rental units above a historic storefront. This housing will increase living options for Xenia's low-income residents. The grant is funded through HUD's HOPE VI Main Street Program.
The units will be constructed in the currently vacant upper two stories of an Italianate-style building. The first floor is occupied by Xenia Shoe & Leather Repair, a long-standing downtown business. While approximately 75 percent of the buildings in the city's Historic District are occupied, most of the upper floors in these properties are vacant.
The City of Xenia and the building owners are contributing a cash match of $149,400 that will enable the renovations of the upper 2nd and 3rd floors to house low-income residents.
"As our nation's older neighborhoods are rejuvenated and become economically stronger, we must create additional affordable housing for low-income folks," said HUD Secretary Julián Castro. "HUD is committed to preserving and increasing affordable rental housing opportunities in communities undergoing change, just like in Xenia."
HUD's Main Street program seeks to rejuvenate older, downtown business districts while retaining the area's traditional and historic character by providing grants to smaller communities for the development of affordable housing. Such communities must have an ongoing Main Street revitalization effort. Under Main Street, obsolete commercial offices or buildings can be reconfigured into rent producing affordable housing.
###
HUD's mission is to create strong, sustainable, inclusive communities and quality affordable homes for all. More information about HUD and its programs is available on the Internet at www.hud.gov and http://espanol.hud.gov.

You can also connect with HUD on social media and follow Secretary Castro on Twitter and Facebook or sign up for news alerts on HUD's Email List.