Rain Can't Dampen Her Dream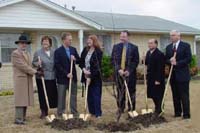 Rep. Brad Carson and Barbara Fox (center) dig in as government and bank officials lend a shovel.
Had it not been for all the muddy shoes, Barbara Fox would have invited everyone inside her new home for a tour. In her rain-soaked backyard, she thanked the government officials and bank executives who helped make her dream possible. "I never would have imagined it was possible to own a home of my own," said Fox. "I am thrilled to be a part of this neighborhood. This is a dream come true for me."
After injuring her back seven years ago while working as a paramedic, the disabled Claremore resident became a fixed-income Section 8 renter through HUD. Now she is among the first Oklahomans to participate in Section 8 homewnership, a program that enables eligible families to apply their HUD rental assistance toward the purchase of a home. Since the Oklahoma Housing Finance Agency (OHFA) began accepting applicants for the Section 8 Homeownership initiative in July 2002, seven participants have closed on their loans and are now homeowners.
U.S. Representative Brad Carson was the keynote speaker at a press conference welcoming Ms. Fox to her new home. "A home is an asset that can generate private wealth," he said. The congressman also noted that research shows homeownership is closely linked to economically stable neighborhoods and low crime rates. "This is a milestone for Claremore, my hometown," said Rep. Carson. "Section 8 helps provide safe and affordable housing for families, but ultimately our goal is to promote the self-sufficiency and stability that homeownership can provide. I commend HUD, OHFA, Bank One, Fannie Mae and CCCS for joining forces to break the cycle of poverty and move the American dream within reach of more low-income Oklahomans."