Location, Location, Location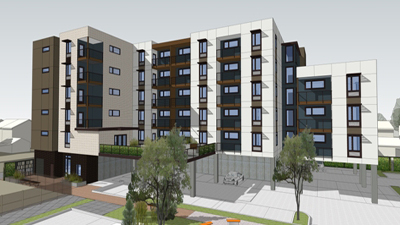 Glisan Commons


PORTLAND - Start with the obvious. If you want to build transit-oriented housing, find a location within walking distance of a transit center.
Which is why two of Portland's largest non-profit housing providers - Human Solutions and REACH Community Development - and Ride Connection, a transit service for the elderly, had their eyes on almost a full city block - owned by the Portland Housing Bureau at Glisan and 100th Street in the northeast section of the city.
It's a perfect site for affordable housing, almost at the exact geographic center of Portland metro and, better still, just a five-minute walk from the Gateway Transit Center. Board a train on any of the three lines that serve it and, in a matter of minutes, you can be in downtown Portland or Hillsboro or Beaverton or Gresham.
"So what," you might say. "Who wants to ride a train when you can drive a car?" Over the decades, it's an attitude a lot of Americans have had. They might enjoy working or shopping or dining out or attending cultural events in the central city. But they certainly haven't wanted to live there, choosing instead to find a place they can call home 10 or 20 or 30 miles in the suburbs or exurbs.
But choices have consequences. Like a pain in the billfold. "The average American family," noted HUD Secretary Shaun Donovan in a recent speech to the American Institute of Architects, "spends 52 cents of every dollar they earn on just housing and transportation and five times as much time stuck in traffic commuting as they did a quarter century ago." And to many of those families a train is looking a more and more attractive than a car.
Which is why many of them are pulling up their suburban and exurban stakes and moving to places in the city. A place like the corner of Glisan and 100th Avenue.
And the collaboration formed between Human Solutions, REACH Community Development and Ride Connection plans to be ready for them when they arrive. Thanks to the donation of the parcel by the Portland Bureau and funding support from, among others, the City of Portland, Oregon Housing and Community Services, the Bank of America, the Network of Affordable Oregon Housing and HUD, in November 2012 Human Solutions broke ground on a five-story, 67-unit workforce housing complex. Thanks to grants from the Oregon Department of Transportation, it'll also house the headquarters and house Ride Connection's headquarters and fleet of busses. But that's just phase 1. Once it's done, REACH Community Development intends to build 60 units of affordable housing for the elderly.
"Glisan Commons will connect working families to affordable housing," commented Portland City Commissioner Nick Fish, "in a neighborhood offering excellent transit options to jobs." And, it's worth adding, just a hop, skip and a light-rail train ride to Portland metro's schools and universities, doctors and hospitals, shopping and dining, cultural and sporting events. And, best of all, not to worry when gas prices spike. Glisan Commons - proof that the obvious choice often is the best choice.
###