Cutting the Mustard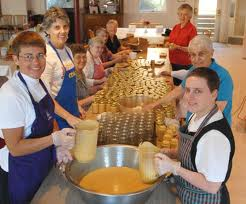 Sisters making mustard


MT. ANGEL, OREGON - "Know your market!" It's probably the first lecture you hear in business school, the first fact-of-life you learn running your own small business.
Not the kind of thing, though, you'd expect to be on the minds of Benedictine Sisters of Mt. Angel, a town of about 3,300 some 18 miles northeast of Salem. But it is.
Starting with the Monastery Mustard the Sisters make, 20 flavors in all, and including Glorious Garlic, twice winner of a silver medal at the Worldwide Garlic Competition. Delicious? Sure. But mustard is just a means for the Sisters to fulfill their goal of "a balanced life of prayer and work, simplicity, hospitality, and service" especially "for the people of the local area."
They've been at it for 130 years, ever since the first of their Order - as well as an order of Benedictine monks - arrived from Switzerland in the 1880's, settling in Gervais, the Sisters making their first home in an abandoned saloon. Pretty quickly, they moved to what then was Floyd and today is Mt. Angel.
From the get-go they matched their ministry to the market and the people around them. They opened a girls' academy that soon became a high school and then a college for women who wanted to teach. By the 1950s it was coed. But then enrollments fell, debts rose and the college shut its doors in 1972. It re-opened the next year as Colegio Cesar Chavez, the first and, at the time, only accredited four-year college for Latinos in the United States.
It made its mark, in 1977 granting in 22 degrees to Latino students, more than the University of Oregon and Oregon State University combined. Like its predecessor, though, Colegio Chavez couldn't be sustained. It too closed, leaving a campus empty, unused, rapidly falling into disrepair. Fortunately, a benefactor bought the property, returning it to the Sisters.
The Sisters knew how to use it. Mt. Angel sits in the Willamette Valley, some of the richest farmland in the world. Where there are farms, of course, there are farm workers and, unfortunately, where there are farm workers there's usually lots of bad farm worker housing.
Once a thriving college, in 1988 the Sisters transformed the campus into a refuge, a place where, for a few bucks a week, farm workers could get a good meal, hot shower and a good night's sleep. The night that St. Joseph Shelter opened 375 men showed up.
No surprise, Sister Marcella Parrish, director of the shelter, recently told Tom Henderson of The Daily Journal of Commerce of Oregon. "That was the summer of amnesty, when it seemed like half of Mexico came to Oregon." Even after the amnesty, demand remained. "For most of the next 20 years," Henderson reported, the Shelter "took in an average of 200 to 300 men" a night, providing, in a typical year, 23,000 shelter nights and 20,000 meals.
Times change. And so do markets. Over the last three years, Parrish said, the average has dropped to 70 men. "The others," she added, "have been families."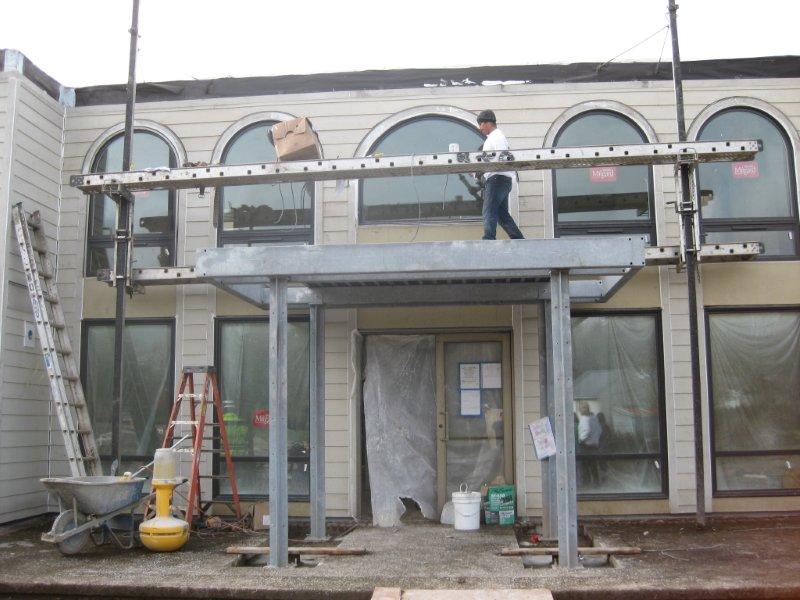 Exterior of transformation of Bede Hall


Makes sense. Some farm workers are migrants, following the harvest from town to town. Others want to settle permanently to take the permanent jobs in agriculture. And when they do, explained Noah Kleiman of CASA of Oregon, they "simply want to live with their families."
The Sisters don't run away from change or challenges. They embrace them. And, now, they're doing it again, using funds from Oregon Housing and Community Services, the Meyer Memorial Trust, the Collins Foundation and the Federal Home Loan Bank of Seattle and HUD's Rural Innovations Fund to transform Bede Hall - an old college dorm - into family housing. They should be ready by mid-March. It is, says CASA, "the right strategy," especially in a state with so many farm workers and their families still in need of housing.
Oh yeah, don't forget the mustard. "I remember starting this mustard thing," Sister Terry Hall told Cooking Up a Story, thinking "now how does this relate to my ministry I mean, I'm not doing anything for people anymore. I'm just making mustard." Monastery Mustard, though, has over the years generated critical support for the services and work the Sisters do at St. Joseph, "how the original, whole thing started." No wonder they call it Glorious Garlic.
###