Model Building
HILLSBORO - Passive, it turns out, is an active and very effective way to address climate change.
Take a trip to Cherry Drive in Hillsboro, the largest city in and seat of Washington County just west of Portland. The non-profit organization REACH Community Development is building a 57-unit, $14.5 million affordable workforce rental complex.
Support is from Wells Fargo, the Community Housing Fund, Meyer Memorial Trust, Network for Oregon Affordable Housing, Oregon Housing and Community Services, NeighborWorks® America, the Washington County Housing Authority and HUD HOME Investment Partnership funds from the Washington County Office of Community Development.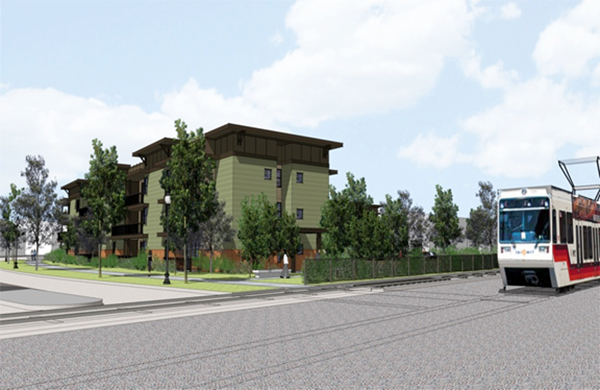 Architect's rendering of the project.
It is the first of the three buildings that will comprise The Orchards at Orenco Station. First and foremost The Orchards is intended to expand the supply of housing affordable to families earning 50 percent or less of area median income - or about $30,000. It is in an area where demand for affordable housing has far outpaced supply. "Over the past 15 years," says REACH, "several thousand housing units have been developed in and around Orenco Station, but none of these units have been affordable" to the workforce The Orchards will serve.
Rent subsidies aren't the only reason The Orchards will be affordable. There are eight units of HUD Section 8 project-based vouchers and 49 Low Income Housing Tax Credit units. So too is its location, just steps away from the Portland metro's light-rail line, MAX.
According to REACH, transportation costs are the second biggest part of a household in budget in the Portland area. MAX makes transportation affordable again. Even better, it puts Orchards residents no more than hour away from employment, educational, recreational and cultural opportunities anywhere in the metro area.
Just as critical to the affordability is the fact that, when it opens next year, The Orchards will be the largest multifamily passive housing complex in the United States. Yes, the largest. What does that mean? That REACH CDC (Community Development Corporation) is aggressively and systematically finding ways and technologies to make The Orchards extremely energy-efficient.
How will it do that? Triple-glazed, tinted windows. Energy-efficient appliances. Roof insulation four times the amount standard in Oregon and four inches of foam insulation beneath the ground-floor slab. Positioning and shading the building so that it stays cool in the summer, sunny and cozy in the winter. An "essentially airtight" building envelope. A ventilation system which collects the heat generated from kitchen and bathroom fans and recycles it to warm the air that heats apartments.
No surprise. It all comes with a cost. It's pricier to build passive housing than housing that is not. General contractor Walsh Construction estimates 11 percent more per square foot but, says Mike Steffen of the firm, "we still think" passive housing is "definitely something that should be considered because it may well be worth the additional investment of money."
Why? Because The Orchards is expected to reduce "energy costs for tenants by approximately ninety percent," there's no question it'll be a smart, sound investment. Back-end, long-term savings should, in other words, more than compensate for up-front costs.
"Cost," of course, is no longer just a about dollars-and-cents. "The science is clear," HUD Secretary Julián Castro recently noted. "Climate change is real and poses a growing threat to local communities." And, if those threats are not addressed, the cost to our generation and, even more so, the generations that follow will be considerable.
Not long ago some argued that affordable housing could not be "green" housing. They were proven wrong. Today there are some who argue that affordable housing cannot be passive housing. Which is why what REACH is doing is so important to the affordable housing community. As the Secretary says, we know what the science says and the threat is. The Orchards could very well provide a workable, affordable model that shows us how to address it.
###