Art Houses
YAMHILL COUNTY - Home, of course, is where the heart is. And where there's heart there's sure to be plenty of art.
Consider the National Association of Housing and Redevelopment Officials' (NAHRO) "What Home Means to Me" competition. For the last nine years NAHRO's invited young people from kindergarten through 12th grade who live in affordable housing operated or assisted by a NAHRO member to create a poster that explains what home means to them. Every year thousands of kids answer NAHRO's call.
Competition's stiff, in each of the three age groups - kindergarten to 5th grade, 6th, 7th and 8th grade, and high school. Local housing authorities forward entries to NAHRO's state chapter which forwards winners of its poster contest onto NAHRO's eight regional offices each of which picks one winner in for each age category and forwards it to NAHRO in Washington, D.C. where 13 winners are picked - 4 from each age group and a national grand prize winner. The winners attend and are honored at NAHRO's annual conference in the Nation's capital and their poster featured in a "What Home Means for Me calendar for the coming year."
Entries flood in from across the county. This year's winners (https://www.housingamericacampaign.org/what-home-means-to-me.html) live in Bayonne, New Jersey; Danville, Virginia; Dedham, Massachusetts; Grand Junction, Colorado; Greensboro, North Carolina; Lincoln, Nebraska; Pawtucket, Rhode Island and Springfield, Illinois.
Pardon our parochialism, though, but there are three other winners those of us who live in the Northwest would especially like to highlight. The first is Jannely, age 12, a resident of the Yakima Housing Authority in central Washington.
She and her mom, she explains, like to "feel a warm and secure home," a place "when I go to sleep every night dreaming that the next morning I will wake up in my home with my family with full of happiness and joy."
Next is Mischa, a 10-year old. She and her family are residents of the Housing Authority of Yamhill County, Oregon, just a few miles southwest of Portland, the state's largest city. "Home is more than a structure," she says, "it's where I grow up. I grow memories and it's also where I live. Home is where I can keep my valuables such as food and clothes. Home is where I can have fun with my family."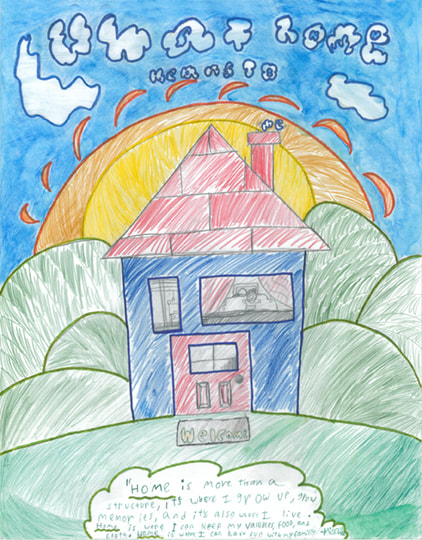 And last but certainly not least is, Zerin, 18, NAHRO's 2018 grand prize winner (https://www.youtube.com/watch?v=3nSAPjKnkWU&feature=youtu.be). She's a former resident of the King County, Washington. Her father, mother and she came to the United States from Bangladesh 2014. She misses the country of her birth, but loves living in the U.S.
"For me home is a place where I feel safe, I feel like I'm not judged. Everyone respects my views." Her poster, she explains, shows that she's at home in two worlds and, at the bottom, includes a family of three figures, like Zerin's, but the faces have no features. "It's just not me who moved from another country, who moved from another place," she explains. "It could be any family who has."
NAHRO's contest is "amazing," one judge commented last year, allowing kids "to share their ideas and feelings" while inspiring "those of us administering these programs to keep creating, designing and building safe and viable housing resources so these children can achieve their dreams."
The size, shape and style of homes change. So too the customs and habits of one generation from the generation that came before. But some things are constant across generations. Like what home means to you, to me, to virtually everyone. HUD thanks these 13 winners and all the kids who participated in this year's competition for their pictures, their words and the inspiration they provide.
###