The Journey from Homelessness
Teresa Volk and her two children walked the streets of Coatesville eight months ago with all their earthly belongings in a small suitcase. Building Bridges, a local homeless provider, came to the family's rescue, and found them a place in a women's shelter.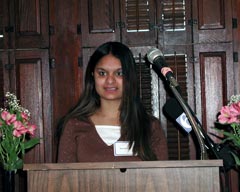 Theresa Volk tells her story.
Thanks to the referrals by Building Bridges, Teresa was able to get an affordable apartment for her children, along with transportation, food and help with her search for employment.
Volk told her story during a HUD press conference on March 26 to announce more than $1.3 million in grants to help homeless programs like Building Bridges in Chester County.
"My life has made some pretty significant changes in the past eight months. These changes probably would not have been made possible without programs and agencies like those I just talked about," said Volk.
"These programs were created because of the generosity and the availability of funds like the funding being awarded to Chester County today," added Volk. "I am thankful to be able to start fresh and build a future for myself and my children."
For more information about HUD programs to support local agencies provide critical emergency shelter, transitional housing and permanent support to thousands of individuals and families, visit HUD's website.
Content Archived: February 28, 2011