New Affordable Housing on St. Croix
The Virgin Islands Housing Authority opened its first affordable housing development in 20 years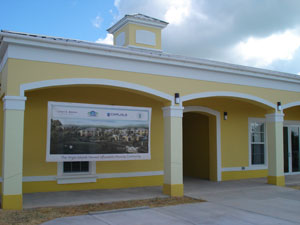 Louis E. Brown Villa façade


U.S. Department of Housing & Urban Development (HUD) Assistant Secretary Sandra B. Henriquez and U.S. Virgin Islands Governor John de Jongh Jr. recently opened the new Louis E. Brown public housing development, replacing the aging development that suffered from multiple hurricanes over the years. The new Louis E. Brown Villas is the Virgin Islands Housing Authority's first affordable housing development in 20 years.
"Cutting this ribbon marks a new beginning for the residents and the surrounding community," said Henriquez. "The Louis E. Brown redevelopment is kick-starting the local economy, creating hundreds of construction jobs, and providing a new community that St. Croix families will be able to call home."
Joining Henriquez and the Governor were Lieutenant Governor Gregory R. Francis; members of the U.S. Virgin Islands 29th Legislature, including Senator Celestino White of the Legislature's Housing Committee; HUD-appointed Board Chair Kimberly Wize; and Virgin Islands Housing Authority Executive (VIHA) Director Robert Graham.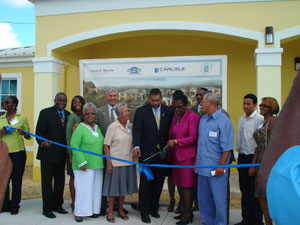 HUD Assistant Secretary Sandra Henriquez and Governor of US Virgin Islands John P. de Jongh, surrounded by guests, cut the ribbon inaugurating the Louis E. Baron Villas public housing development


The 102 new units recently inaugurated are the first part of a three-phase redevelopment plan that will ultimately create 244 one- to three-bedroom units for families and seniors. The developer, Carlisle Development Group, included "green" features to conserve power and water which will significantly lower utility costs for residents. These power-saving features include solar thermal water heaters, energy efficient appliances, and rainfall cistern. The new community will also include a community room, library, pedestrian walkways, laundry facility, exercise room, computer lab, recreational area and a playground.
This project generated approximately $32 million worth of investment to the community, including 120 construction jobs for Cruzans. More than a third (37 percent) of all new hires are low- or very-low income neighborhood residents, and 89 percent are minority and women-owned businesses subcontractors. All of the housing will be available to local residents earning 60 percent of the area median income or less, which is $18,660 or less on St. Croix. The redevelopment is being financed with Low-Income Housing Tax Credits from the V.I. Housing Finance Authority, along with funds from HUD.
###
Content Archived: January 2, 2014