Virgin Island Housing Authority in St. Croix & St. Thomas Salute to Fathers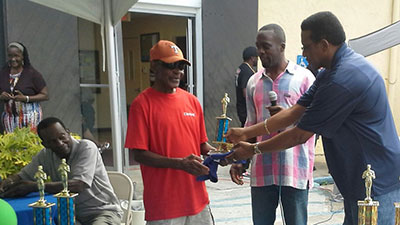 USVI Senator Blyden and VIHA Executive Director Robert Graham honoring fathers in St. Croix.



In St. Thomas, children made cards for their dads.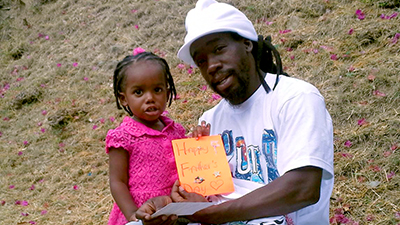 In St. Thomas, a proud girl presents her card.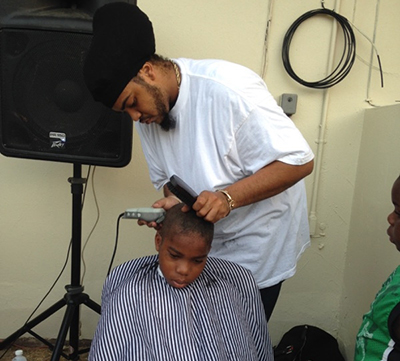 A visit to the barber was part of the activities.


The Virgin Islands Housing Authority's (VIHA) Division of Resident Services and the David Hamilton Jackson Terrace (AMP 21) recently hosted Father's Day events in St. Croix and St. Thomas. Approximately 100 people attended the event in St. Croix, which included a Health and Education Fair and an evening celebration of festivities.
During the celebration in St. Croix, Almeric Messer was honored as an Outstanding Father for his hard work in the community. He was recognized for taking ownership and pride in his community by planting fruit trees, flowers and other plants in AMP 21. He was also recognized for daily collecting litter outside of his apartment and the surrounding areas.
Additionally, Mr. George Edwards, age 84, was honored as the oldest father who resides in the community and VIHA's Maintenance Staff of AMP 21 were honored for their outstanding work.
As a gift, fathers in St. Croix were given free haircuts on-site from volunteers, including Mr. Victor M. Petersen, a local barber shop owner, and 31st U.S. Virgin Islands Legislature Senator Terrence Nelson.
VIHA celebrated HUD's National Father's Day in St. Thomas as well by honoring the oldest fathers from each of the eight housing communities in the St. Thomas District and presented each one with a trophy and a father's day t-shirt donated by the Community Foundation of the Virgin Islands. Senator Marvin Blyden and his staff participated in this event.
In St. Thomas, two young calypsonians and the father of one of the calypsonians performed; children created Father's Days cards and then read aloud their cards to the audience in honor of their fathers; and all present enjoyed a meal. Another special treat to the Celebration was a custom car show provided by a local business owner.
HUD's National Father's Day events were devoted to a day of activities and information for strengthening, empowering and improving the quality of life of families living in public housing communities.
Lutheran Social Services-Early Head Start, The Virgin Islands Housing Finance Authority, Juan F. Luis Hospital Blood Bank, Virgin Islands Public Library System Bookmobile, the University of the Virgin Islands Community Engagement and Lifelong Learning (UVICELL), and the Public Services Commission were all present in The Virgin Islands' Father's Day celebrations to share information on their programs and services.
###