HUD Helps Make Possible Behavioral Health Medicine Clinic in Eau Claire Community of North Columbia
The Eau Claire Cooperative Health Centers (ECCHC - www.ecchc.org/index.html) announced the grand opening of its first Behavioral Health Medicine Clinic on the campus of the James E. Clyburn Health Center (www.sc211.org/?option=com_cpx&task=resource&id=317748) in the Eau Claire community of North Columbia. The City of Columbia provided $350,000 in HUD Community Development Block Grant (CDBG) funds to ECCHC for the construction of the new 2,700 sq. ft. behavioral health facility to serve low income families in need of out-patient mental health services.
"The $350,000 dollars of HUD Community Development Block Grant funds that the City of Columbia used to invest in the Eau Claire Cooperative Behavior Health Center will provide many residents in the Eau Claire Community of Columbia, South Carolina with much deserved and needed psychiatric services for decades to come," said Larry Knightner, HUD Columbia, South Carolina Field Office Director. "This is an outstanding example of how citizen's federal tax dollars are returned to their community to address their needs."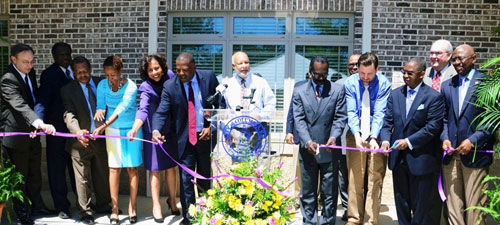 (l-r) Brad Evatt, CPD Director, HUD Columbia Field Office, John Rickenbacker, District Aide, Congressman Clyburn, Larry Knightner, Director, HUD Columbia Field Office, Councilwoman, Julie Ann Dixon, Deborah Livingston, Director, City of Columbia Community Development, Mayor Steve Benjamin, City of Columbia, Dr. Stuart Hamilton, Councilman Sam Davis, Dr. Augustus Rodgers, Dr. Scott Weyant, Senator John L. Scott, Jr.,Councilman L. Gregory Pearce, Jr., Councilman Paul Livingston
Behavioral Health Medicine is a department of (ECCHC) and this CDBG project is the first free standing mental health facility in the Eau Claire community designed to serve area residents. The center will provide increased access to mental health services and will supplement the pediatric, adult, and pharmacy services already available on the campus site. CDBG funds were designated for construction up-fit within the full building shell (plus labor and materials), and the rear parking lot. The cost of the total project was $552,000.
The ECCHC is a community based, non-profit, federally qualified health center (FQHC) that provides comprehensive primary medical care to low-income and uninsured families in Columbia and the surrounding areas. This expansion of services will permit a greater number of low-income families to receive needed health care services that are accessible and affordable. The ECCHC is in its 30th year of service in the Eau Claire community which has 42,000 residents and has a 23% poverty rate.
Access to affordable health care is a barrier for underserved individuals and families in the Columbia area. Especially in the 29203 zip code which is underserved and has a high number of low and moderate income households in need of health services. All patients are welcome and no one is denied service because of an inability to pay.
Over 1000 low-income individuals who would not otherwise have access to affordable and locally available mental health services will not have to leave their community to get assistance. Additionally, one side of the facility will also address minor urgent care needs for walk-in assistance with evening and weekend hours. The impact on the community will be measured by tracking the number of days lost from employment, school behaviors and success, general functionality in the activities of daily living, maintenance of family structure and relationships and the general life quality.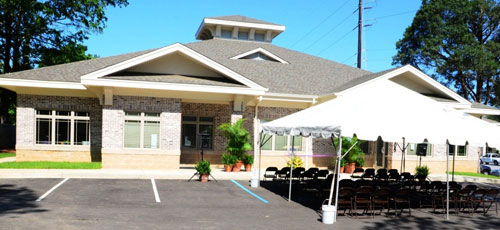 New Eau Claire Behavioral Medicine Clinic
###