Senior Residents Enjoy Living Golden Years in Columbia, South Carolina Historic Community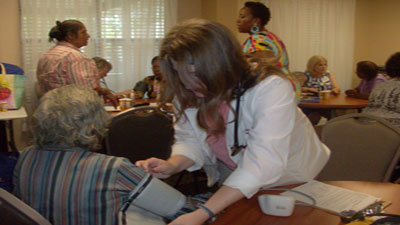 Health Screening


On-site vegetable garden plots


Residents enjoying morning walk

A HUD Multifamily housing senior resident recently described her home in Columbia as being a miniature paradise.
"I am so happy to have a nice comfortable place to live. It could be called a miniature paradise because the grounds are so nice and clean and the staff is so friendly."
In this particular case it is a place of contentment and describes Ensor Forest Apartments, a HUD Section 202 Multifamily Housing property located in the historic Eau Claire Community.
Since 1982, Ensor Forest Apartments has made significant contributions in combating the critical shortage of decent, safe and sanitary housing for the elderly. It is an apartment community where senior residents are afforded an opportunity to enjoy what many consider to be their "golden years."
Ironically, many are surprised to learn that Ensor Forest, located in the Eau Claire Community of Columbia, is considered one of the area's most tranquil living environments. The 69 unit apartment community is 100% subsidized and offers more than just housing for 70 elderly residents. According to Ms. Gloria Saeed, Executive Director, T N Development Corporation (www.agingcare.com/local/T-N-Development-Corp-Ensor-Forest-Apts-Columbia-Independent-Living-SC) (HUD approved Management Agent), the property has an active Resident Council that meets on a monthly basis to address various issues impacting the overall well-being of residents.
Additionally, management ensures that residents have a variety of activities (Life Lessons Class, basket weaving, health screenings, gardening, walking, etc.) that are sponsored by local partners such as Kingdom Builders Ministry, Harvest Hope Food Bank, Healthy Columbia and South Carolina College of Pharmacy. Furthermore, residents seeking extracurricular activities in support of a healthier lifestyle may elect to join an on-site do-it-yourself gardening club or a newly formed exercise club, The Walk and Roll.
Contributors: Harriett Glover, Office Assistant and Ms. Gloria Saeed, Executive Director, T N Development. Article prepared by Elaine Bennett, Senior Project Manager, Columbia, Multifamily Program Center.
###