High-Tech Learning Center For The Elderly
Opens In Rural Texas Community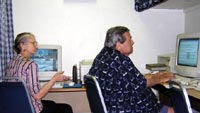 Sandstone Foothills residents using the Learning Center computers.

Residents of the Sandstone Foothills Apartments in Mineral Wells, Texas are among the first senior citizens living in a rural Texas community to go high-tech. Thanks to a new Neighborhood Network Learning Center, along with three new Dell computers, software and a printer from HUD's Fort Worth office, these elderly residents now have access to computer training, email and the web.

Sandstone Foothills, a 40-unit Section 202 Program property specifically for low-income elderly families, is owned by National Church Residences, one of the nation's largest nonprofit developers of affordable housing for the elderly. The Sandstone Foothills Neighborhood Learning Center is the first of its kind in Mineral Wells.

According to Ms. Vaudene Pruitt, a retired teacher from the Mineral Wells ISD who is now volunteering as a computer instructor at the facility, the residents have quickly learned to receive mail, send replies, forward messages, use spell check, send attachments, change size of print, fonts, color format and save messages.

Ms. Jodi Smith, the Service Coordinator of Sandstone Foothills' Neighborhood Network Program, reports an early success story involving a resident disabled from a stroke suffered more than thirty years ago. The stroke adversely affected her ability to communicate; however, since learning to navigate the web and send email, a whole new world has opened up to her. Her whole outlook on life has brightened! She has truly become an inspiration to the staff as well as the residents.

Thanks to a collaborative effort between the residents of the Sandstone Foothills community and the Fort Worth Multifamily Housing Program Center, the Neighborhood Network Learning Center in this rural Texas town is quickly becoming an asset not only to the residents living there, but to the property's owners and managers and surrounding community as well.