New James Zay Roberts Homes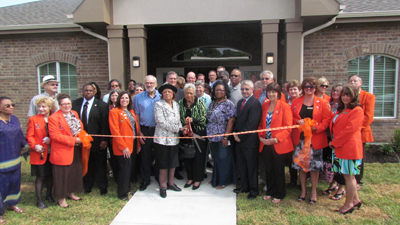 Officials participate in official ribbon cutting ceremony.


(center) Raynold Richardson, Director, HUD Multifamily Housing Program Center, speaks to ceremony participants. To the right of Director Richardson is Mayor William Brown Claybar, City of Orange; to the left of Director Richardson is Chris Akbari, Vice President, ITEX.

On May 1, 2012, a ribbon cutting ceremony was held for the James Zay Roberts Homes at its Community Center at 516 Burton Avenue, Orange, TX. The event attracted more than 30 dignitaries. When Hurricane Ike brought its massive storm surge on-shore in Orange County, virtually every home and business owner was affected by its devastating force, including the City of Orange Housing Authority and the residents of its public housing units.
Prior to Ike striking in 2008, the housing authority operated 331 apartments. "A total of 90 apartments were severely damaged," said Ms. Tanya Wilson, Acting Executive Director of the City of Orange Housing Authority. "Hurricane Ike nearly shut down our ability to provide decent housing to the low-income citizens in our community. Our board and staff have been working diligently with the help of many others to successfully address the affordable housing needs in the City of Orange. Today is another day where an important milestone has been reached in our recovery. The completion of the 112 housing units we are cutting a ribbon on this morning puts us at completing approximately 15% of our 'wish list'," said Wilson.
Wilson further noted that "the ITEX Group has been our development partner and has assisted in developing and formulating our replacement goals and strategies. They have also played an instrumental role in securing the necessary property, public and private funding, as well as designing and constructing our projects."
Chris Akbari, Executive Vice President of the ITEX Group, stated that "the housing units we are dedicating today include eighty 1, 2 and 3-bedroom apartments and thirty-two 3 and 4-bedroom single-family rental homes. This is a green project built with energy-efficient construction materials, equipment and appliances. It will help the housing authority and its tenants reduce their monthly outlay for utilities and help improve the environment."
The James Zay Roberts Homes development represents a $13,340,000 investment; $3,340,000 via a HUD-insured Section 221(d)4 mortgage and a $10,000,000 Community Development Block Grant administered through the Texas Department of Housing Community Affairs (TDHCA). The affordable housing development consists of 80-mixed-income multifamily units and 32-detached single-family homes on individual lots within a one-mile radius of the original site.
Raynold Richardson, Director of HUD's Houston Multifamily Housing Program, stated that "the development is a prime example of American taxpayer dollars at work administered by the current national administration. The efforts of the City of Orange Housing Authority, TDHCA, the developers and mortgagor, along with participation of the Department of HUD ensure that quality affordable housing will continue to be provided to the residents of Orange."
###