The ITEX Group Completes 2101 Church Street Restoration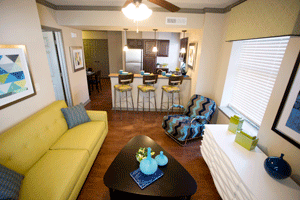 Typical living room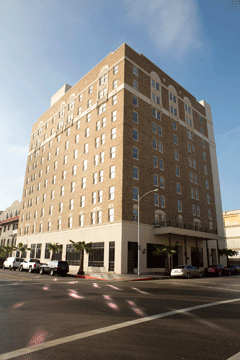 Exterior view of 2101 Church Street

The Department of Housing and Urban Development, Texas General Land Office, Galveston city leaders, Galveston Chamber of Commerce, the community, business leaders and residents gathered to celebrate the opening of a new $9.75 million private construction project in Galveston's Stand Historic District. 2101 Church Street is an address with decades of history on the Island. The original 87-year hotel sustained obsolescence, a major hurricane, neglect and near dilapidation. It was foreclosed by Cathay Bank after Hurricane Ike but is now experiencing new life as a beautiful mixed-use residential and retail development.
In December 2012, government, community and business leaders gathered at the site of the former Jean Lafitte Hotel to celebrate the commencement of the project that would return this once beautiful historical building to its former grandeur. Tuesday, May 13, 2014, these same officials reunited to celebrate the grand opening.
The new development has eighty-three 1- and 2-bedroom apartments, complete with wood-style flooring, granite counter tops, solid wood cabinetry and stainless steel appliances. Some residents received an extra slice of history with crown molding salvaged from the original Jean Lafitte Hotel. Residents also enjoy a community media room, resort-style courtyard and pool/spa area.
In addition to developing and securing financing, The ITEX Group's affiliate ICON Builders, LLC, served as general contractor whose work completed the restoration under the watchful eyes of the Texas Historic Commission and the city. The ITEX Group's affiliate ITEX Property Management, LLC, will manage the residential units and retail space. Ike Akbari, The ITEX President, said, "The retail center is at street level and is ideal for businesses who market to tourists, the medical center, and other area employers and want a great address in a popular area of the Island."
Raynold Richardson, Director, HUD Houston Multifamily Housing, stated, "The Department is pleased to be a key participant with the historic endeavor. The FHA mortgage insurance and HUD Disaster Recovery funding is a prime example of the Department's effort and commitment to assist in the redevelopment of Galveston and to provide quality additional affordable housing."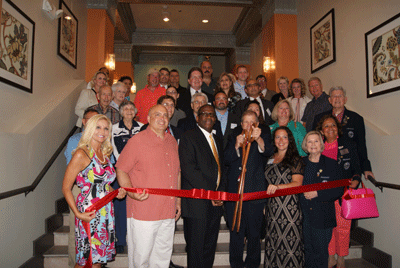 (l to r) (1st row) Gina Spagnola, President, Galveston Chamber of Commerce; Norman Pappous, Galveston Council Member; Raynold Richardson, Director, HUD Multifamily Housing; Donald Ball, Prosident, Nautical Affordable Housing; Brittany Martin, Property Manager; (2nd row) (third individual from left) Chris Akbari, Executive Vice President, ITEX Group; Ike Akbari, President ITEX Group; (last row) (2nd from right) Jeff Crozier, Texas General Land Office

The original Jean Lafitte, built in 1927, was once a place of magnificence that welcomed travelers and tourists to the Island with its beautiful architecture and renaissance revival design and ornamentation. Chris Akbari, The ITEX Group Executive Vice President, said, "We are very pleased with this new ITEX development and the opportunity given to us by the city to bring such a historic building back to life. The future of Galveston Island is very promising and we feel honored to be an investor and participant in that future."
###