HUD Region VI: 12-61
Patricia Campbell/Scott Hudman
(817) 978-5974/(713) 718-3107
For Release
Tuesday
May 1, 2012
---
HUD NAMES WANDA C. MERRITT AS LUBBOCK FIELD OFFICE DIRECTOR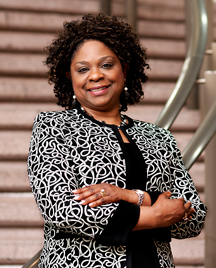 Wanda C. Merritt, Field Office Director

FORT WORTH - U.S. Housing and Urban Development (HUD) Regional Administrator C. Donald Babers today announced that Wanda C. Merritt has been named HUD's new Field Office Director for the Lubbock, Texas Field Office. Merritt, who has been the HUD's Acting Field Office Director since September 4, 2011, officially assumed her duties on April 22, 2012. She will be responsible for overseeing the delivery of HUD programs and services throughout the 71-county area of West Texas, Far West Texas, South Plains, and Panhandle areas of Texas.
"Wanda possesses a great depth of experience on the ground, working with the communities in the Lubbock area, to get things done," said C. Donald Babers, HUD Regional Administrator. "Her experiences with HUD, with City government, and the public will come together to have a big impact on the places we serve throughout West Texas."
"I am committed to implementing the Secretary's goals and ensuring HUD services are being fully utilized in the entire Lubbock Jurisdiction," said Ms. Merritt. "I was born and raised in West Texas and am passionate about working with HUD stakeholders to strengthen and promote livable, sustainable communities and affordable housing for all. I am honored to be selected as the Field Office Director in Lubbock."
With more than 20 years experience in economic and community development, Merritt joined HUD's Lubbock Field Office as a Community Builder in September 1998. Previously, she was the Community Development Administrator for the City of Abilene, managing HUD's Community Development Block Grants, HOME Investment Partnerships Program, and the Section 108 Loan Guarantee Assistance Program. Prior to that, she served as a Business Analyst for Abilene, implementing a number of programs and initiatives to support small businesses, while helping jumpstart the newly created City of Abilene Economic Development Department.
She is active in the Lubbock community, having served on the Board of Directors for the Lubbock Area United Way and CASA of the South Plains. She is a 2006 graduate of Leadership Texas and is currently a member of the Texas Parents Advisory Board for The University of Texas at Austin. In 2009, Ms. Merritt successfully completed HUD's prestigious Emerging Leaders Program (ELP) and in 1998 participated in Executive Programs in Public Management at Harvard University - John F. Kennedy School of Government. Ms. Merritt earned an MBA and a Bachelors of Business Administration Degree in Business Management from Angelo State University.
###
HUD's mission is to create strong, sustainable, inclusive communities and quality affordable homes for all. HUD is working to strengthen the housing market to bolster the economy and protect consumers; meet the need for quality affordable rental homes: utilize housing as a platform for improving quality of life; build inclusive and sustainable communities free from discrimination; and transform the way HUD does business. More information about HUD and its programs is available on the Internet and espanol.hud.gov. You can also follow HUD on twitter @HUDnews, on facebook at www.facebook.com/HUD, or sign up for news alerts on HUD's News Listserv.