McAuley Square
The McAuley Square development project provides 74 affordable housing units near downtown Burlington, Vermont.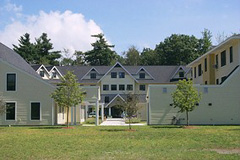 As an innovative intergenerational housing facility, McAuley Square was designed to accommodate a variety of lifestyles.
McAuley Square is an innovative 74-unit affordable housing project designed to serve an interesting cross-section of our population. Older residents, young parents, and students will be sharing the attractive living complex.
On January 22, 2001, which was a blustery winter day even by Vermont standards, the "snow" breaking for McAuley Square took place. The Mayor of Burlington, Peter Clavelle, led the occasion at the innovative intergenerational housing facility. Also in attendance were representatives of Cathedral Square Corporation, the Sisters of Mercy, Housing Vermont and many other state and local organizations that were involved in the project.
The affordable housing residential development will house seniors, pregnant teens, and community service scholars. Located near downtown Burlington, the building site is convenient to businesses, schools, health services, and transportation.
McAuley Square will be managed by Cathedral Square. Assisting in a number of residents' programs will be representatives of the Lund Family Center, the REACH-UP program, and the Scholars Program at Trinity College.
This project is more than affordable housing: it is a community supported by services from a myriad of programs. For example, the Sisters of Mercy donated the land and the development was handled by two non-profits, Cathedral Square Corporation and Housing Vermont. Other organizations playing major roles in the project were:
Vermont Housing Finance Agency
Chittenden Bank
Howard Bank
Vermont Housing Conservation Board
City of Burlington (McKinney Grant)
Burlington Housing Authority
HUD
Content Archived: March 21, 2011