Youth Program Expands at Bluefield, West Virginia, Housing Authority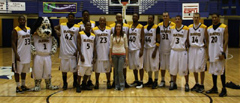 The Blazers basketball team
The Bluefield Housing Authority (BHA) is located in the southern mountains of West Virginia, and serves approximately 565 low-income families in Mercer County. Public housing authorities, through the Housing Choice Voucher and Public Housing programs, receive federal funds to provide decent and safe rental housing for eligible low-income families, the elderly, and persons with disabilities.
The BHA, as the sponsor of the Bluefield Blazers youth basketball team, has been proactive in its approach, for the last 10 years, to enhance the quality of life of its residents by providing activities and positive life skills training for the youth and young adults in the area. To participate on the team, the children must be drug and crime free, and while there is not a mandatory grade point average, the participants must be progressing academically.
Last summer, the BHA Board decided to expand their involvement in youth sports by organizing and sponsoring a professional basketball team, the West Virginia Blazers, for men in their early 20's. Their goals are to provide positive activities for the youth, to raise money and support for programs and activities for at-risk youth, to provide positive role models for youth in the Authority's development and the community, and to provide an affordable activity for families to attend.
The Blazer team is comprised of a substance abuse counselor, a medical program student, a communications major, an economics major, a high school teacher, and an aspiring youth minister. Their community activities include participating in fundraising for local schools, reading to local area students, and promoting drug and tobacco prevention.
Although the goal of the BHA is to provide housing to residents, they have also ventured out to involve the community in providing the area youth with positive life choices and activities, along with entertainment for the people of southern West Virginia.
Content Archived: March 21, 2011