HUD No. 05-039
Brian Sullivan
(202) 708-0685

For Release
Wednesday
March 30, 2005
---
U.S. ANNOUNCES SETTLEMENTS AGAINST TWO MINNESOTA LANDLORDS - 250 APARTMENTS IN MINNESOTA, WISCONSIN AND INDIANA TO BECOME LEAD SAFE
Agreements part of HUD's increased enforcement to end childhood lead poisoning
WASHINGTON - The Department of Housing and Urban Development (HUD), the Environmental Protection Agency (EPA) and the U.S. Attorney's office in Minneapolis today announced settlements against two Minneapolis-based landlords for failing to warn their tenants that their homes may contain potentially dangerous lead. Combined, the settlements will result in the complete elimination of all lead-based paint hazards in 250 apartments throughout Minneapolis, Wisconsin and Indianapolis (see attached list).
The allegations involve violations of the Residential Lead-Based Paint Hazard Reduction Act of 1992 and the Lead Disclosure Rule. The law and its regulations require sellers and landlords of housing constructed prior to 1978 to provide each purchaser or tenant with a lead information pamphlet, any information and/or reports concerning lead-based paint or lead-based paint hazards in the property, and a Lead Warning Statement to be signed by the parties. Sellers are also required to provide purchasers with an opportunity to conduct a lead-based paint inspection.
"It's very simple-landlords, management companies, and home sellers have a legal obligation to inform tenants and buyers about potentially dangerous lead-based paint in their properties," said HUD Secretary Alphonso Jackson. "When we discover that families have not been properly notified that their homes might be poisonous, HUD will act."
"By bringing enforcement actions against these landlords, EPA is restating that protecting our children's health from lead-based paint exposure is one of our highest priorities. To this end, we will vigorously pursue compliance with this rule," said Acting Regional Administrator Bharat Mathur.
Gorman Park Properties
Gorman Park Properties (operating under the names Gorman Park Properties, L.L.L.P.; Grendahl Park II, LLC; and, Grendahl Park III, LLC) owns 12 residential properties, including more than 200 apartment units, in the Minneapolis area. During HUD's investigation, it was determined that the Gorman Park owners stopped complying with federal law in 1998. The company has completed lead-based paint inspections and risk assessments and will undertake an aggressive five-year program to eliminate lead-based paint hazards in 208 units, initially targeting those where young children live.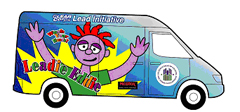 In addition, the company will pay a $7,500 civil penalty to the U.S. Treasury and pay another $50,000 to the Sustainable Resources Center (SRC), a Minneapolis-based children's health project, to purchase a mobile blood testing van. This fully equipped mobile unit, the first of its kind in the Twin Cities area, allows SRC to reach into neighborhoods where lead screening rates are low and will greatly improve blood screenings of at-risk children living throughout Minneapolis-St. Paul. For more information about SRC, visit www.src-mn.org.
Bashir Moghul
Bashir Moghul owns 17 residential properties (containing approximately 24 units) in the Minneapolis area; three properties (four units) in Wisconsin; and, seven duplex properties (14 units) in Indianapolis. According to the City of Minneapolis, several children living in Moghul's apartments were lead-poisoned. Moghul ignored numerous requests from HUD as well as a subpoena from EPA before finally providing documents to the U.S. Attorney's office. After a review of those documents, HUD determined Moghul failed to properly notify his tenants of possible lead hazards.
The government's agreement requires Moghul to perform risk assessments and replace all windows in his units within one year. In addition, he agreed to completely eliminate all lead-based paint hazards in his properties within four-and-a-half years and pay a $5,000 penalty.
The settlements announced today represent the third and fourth such joint enforcement actions in the Minneapolis area since 2001. Last July, HUD, the U.S. Attorneys Office and EPA reached agreements with a property management company and another landlord in Minnesota resulting in nearly 4,500 apartments in four states becoming lead free. More information on those settlements.
To date, HUD, EPA and the Justice Department have taken enforcement actions affecting over 177,274 apartments in 38 cases across the country resulting in $735,382 in civil penalties. In addition, a total of $438,750 have been paid directly to community-based projects to reduce lead poisoning and commitments by landlords to pay an estimated cost of over $22 million to address lead-based paint hazards in the affected units.
Background on Health Effects of Lead-Based Paint:
Lead exposure causes reduced IQ, learning disabilities, developmental delays, reduced height, poorer hearing and a host of other health problems in young children. Many of these effects are thought to be irreversible. In later years, lead-poisoned children are much more likely to drop out of school, become juvenile delinquents and engage in criminal and other anti-social behavior. In a recent issue of the New England Journal of Medicine, researchers found that even at low levels, lead exposure in children can significantly impact IQ and even delay puberty in young girls.
At higher levels, lead can damage a child's kidneys and central nervous system and cause anemia, coma, convulsions and even death. Nearly 500,000 of the nation's 22 million children under the age of six have blood lead levels high enough to impair their ability to think, concentrate and learn. The Centers for Disease Control and Prevention estimates that the percentage of children with elevated blood lead levels has been cut in half since the early 1990's, although the prevalence of childhood lead poisoning in low-income, unassisted older housing remains high. In fact, one in six low-income children living in older unassisted housing is believed to be lead poisoned. HUD estimates that the number of houses with lead paint has declined from 64 million in 1990 to 38 million in 2000. Eliminating lead-based paint hazards in older low-income housing is essential if childhood lead poisoning is to be eradicated.
HUD is the nation's housing agency committed to increasing homeownership, particularly among minorities; creating affordable housing opportunities for low-income Americans; and supporting the homeless, elderly, people with disabilities and people living with AIDS. The Department also promotes economic and community development as well as enforces the nation's fair housing laws. More information about HUD and its programs is available on the Internet and espanol.hud.gov.
###