HUD No. 06-019
Donna White
(202) 708-0685
For Release
Thursday
February 16, 2006
---
HUD SECRETARY ANNOUNCES LAND SWAP BETWEEN ATLANTA HOUSING AUTHORITY AND COLLEGE PARTNERS, INC.
Colleges exchange land with AHA in order to expand campuses
ATLANTA - Today, the U.S. Department of Housing and Urban Development Secretary Alphonso Jackson announced a land transfer between the Atlanta Housing Authority (AHA) and the city's three historically black colleges.
AHA and College Partners Inc. (CPI), a joint venture of Spelman College, Morehouse College and the Morehouse School of Medicine, will swap land near the Harris Homes public housing development. The exchange will facilitate the campus expansion and provide AHA additional land for the redevelopment of public housing and the surrounding community.
"Today everyone goes home a winner," said Jackson. "The Atlanta Housing Authority and these institutions for higher learning are aggressively moving forward to revitalize College Town. I applaud their efforts to leverage all available resources and create a thriving community for the students and the citizens of Georgia."In 1999, the AHA was awarded a $35 million HOPE VI Revitalization Grant from HUD to revitalize the Harris Homes public housing development in College Town. This 10.2-acre parcel of land is one of a number of parcels owned by the housing authority adjacent to the college. The AHA proposed to deed the 10.2 acres to CPI in exchange for the approximate 12-acre site adjacent to Harris.The revised master plan for College Town will be the catalyst for the restoration of the surrounding neighborhood, creating a mixed-income community totaling 808 units. The main residential development will be comprised of 662 affordable and market rate rental units and 74 homeownership units. The economic anchor of the community will be a town square, with mid-rise residential buildings with retail space on the ground floor to complete the community. HUD is the nation's housing agency committed to increasing homeownership, particularly among minorities; creating affordable housing opportunities for low - and moderate-income Americans; and supporting the housing needs of the homeless, elderly, and of people with disabilities and people living with AIDS. The Department also promotes economic and community development as well as enforces the nation's fair housing laws. More information about HUD and its programs is available on the Internet and espanol.hud.gov.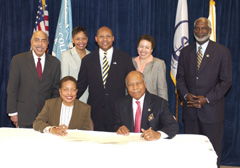 Back row. Left to Right
President of Morehouse Dr. Massey, Lisa Borders President, Atlanta City Council, Secretary Jackson, Dr Beverly Tatum President of Spelman College, Dr. David Satcher President of Morehouse School of Medicine,

Front row seated:
Renee Glover and Dr. Louis Sullivan Chairman College Partners Inc.
Signing land swap agreement at Morehouse in Atlanta
####